Episode 1103: Corals in Crisis
Florida's fragile coral reefs are in crisis. Once vibrant cities of the sea, these biodiverse ecosystems have declined over the past few decades. Fishing pressures, pollution, development, and climate change have all left their mark.

Now, a new ailment known as "Stony Coral Tissue Loss Disease" may be the last nail in the coffin. This disease is infecting over half of the reef-building corals at an unprecedented scale, killing most of the corals that get sick. But all hope is not lost. Experts of varying backgrounds are working diligently to figure out what is causing the disease, while simultaneously developing techniques to treat outbreaks and restore the sunshine state's coral reefs to their former glory.
Experts
Meet the experts featured in this episode.
Episode Photos
Brian Walker, Ph.D. and Changing Seas Producer Kristin Paterakis discuss the dive plan for the day. Brian will be treating corals affected by Stony Coral Tissue Loss Disease.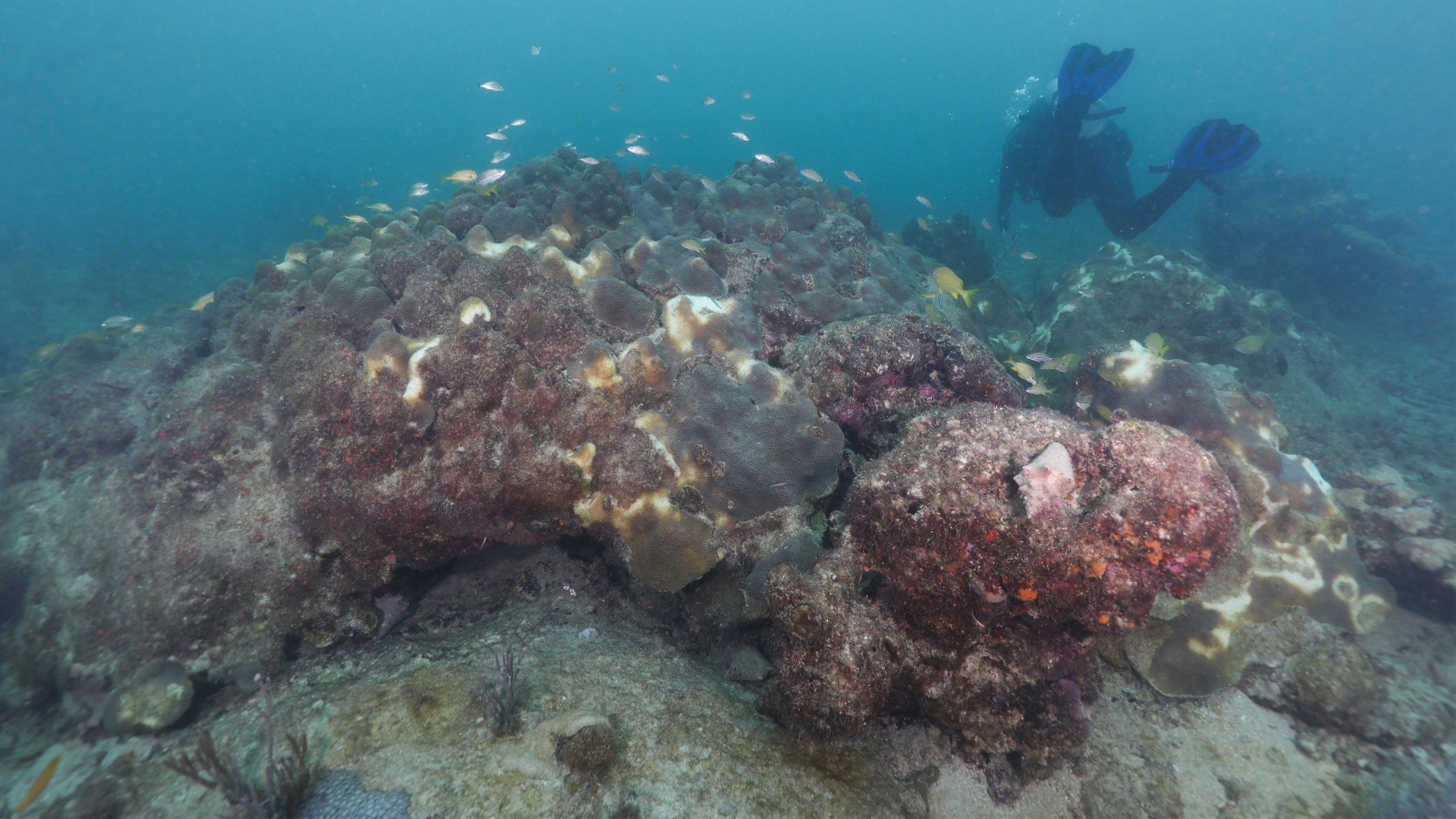 A mostly dead old mountainous star coral colony with some healthy and some bleached and diseased portions on top.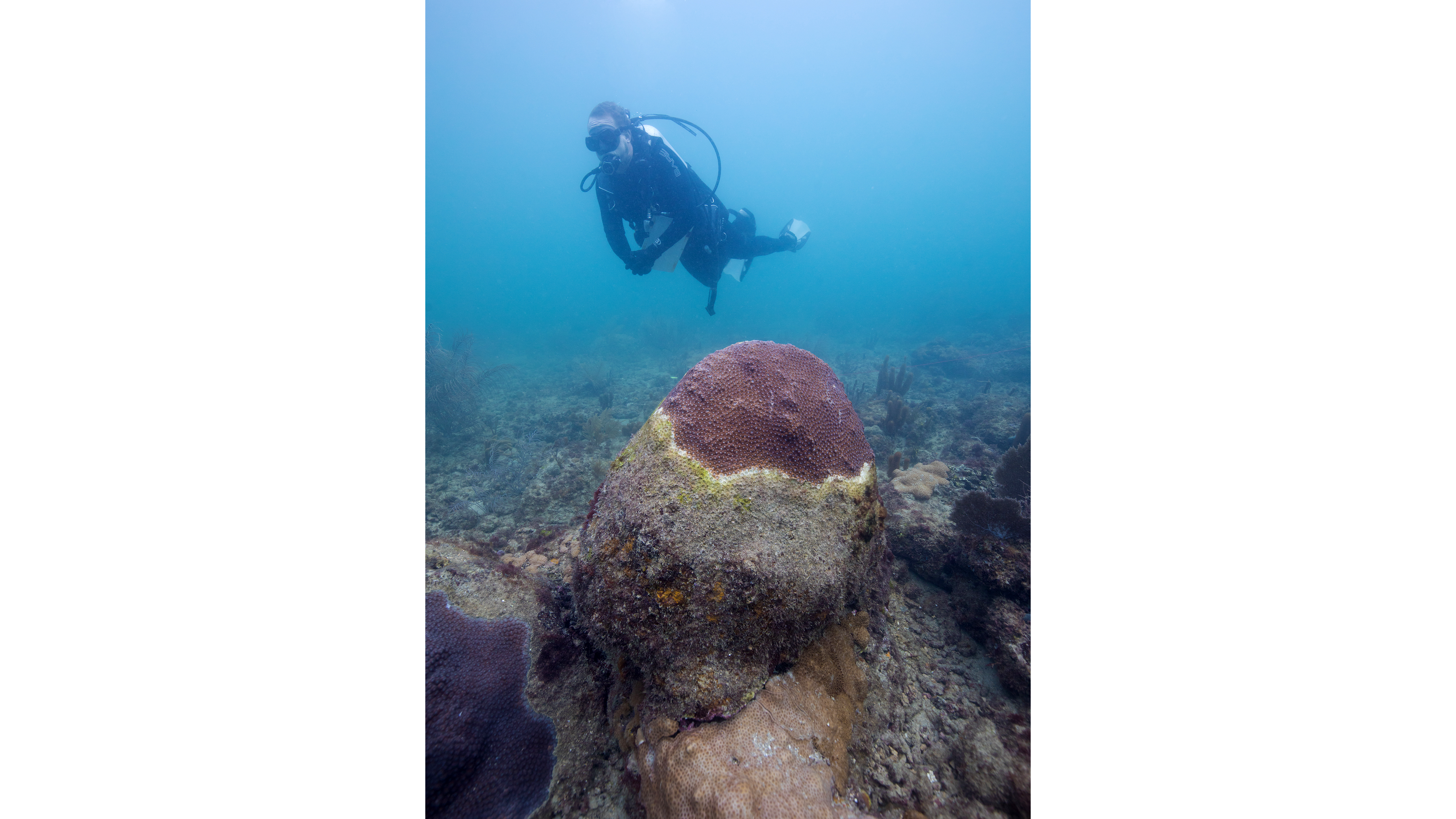 Brian Walker, Ph.D. swims over a great star coral colony affected by Stony Coral Tissue Loss Disease.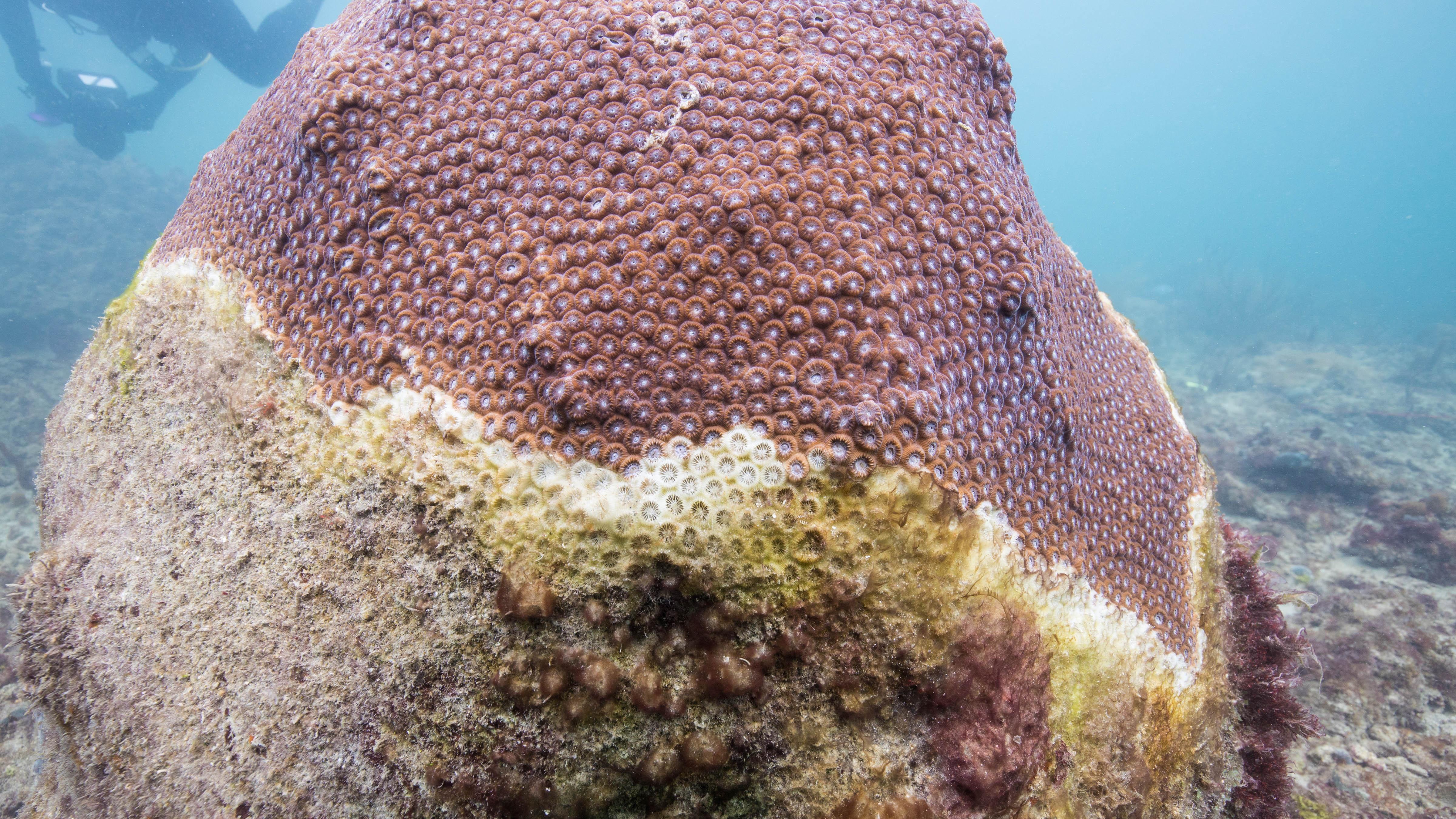 The disease margin is identified by the bright white line of dying and recently dead coral tissue. Beneath it are algae-covered outlines of the coral skeleton that is eroding.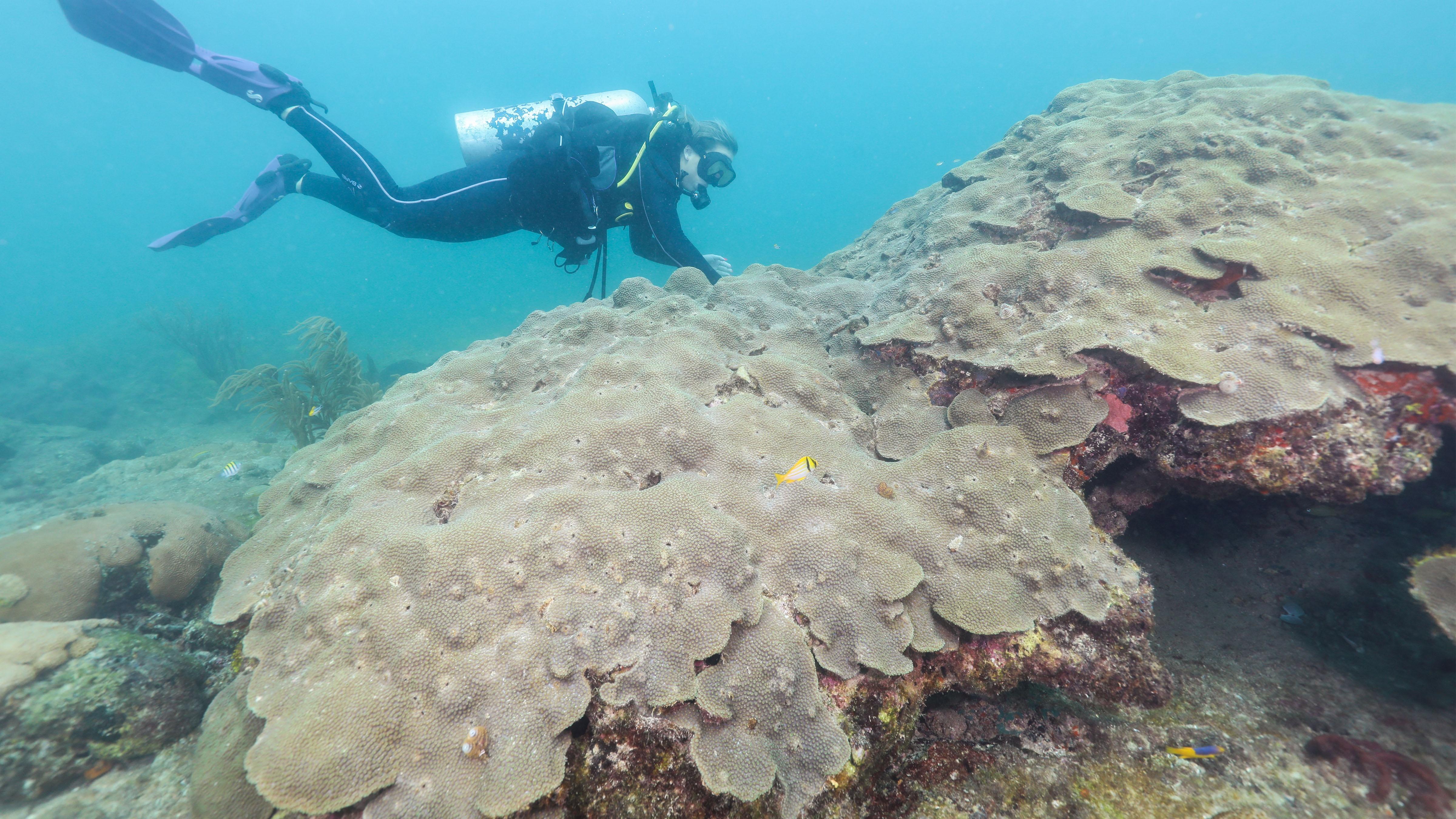 Several apparently healthy mountainous star coral colonies growing together. These large boulder corals could be up to 300 years old.
Brian Walker, Ph.D. creates a firebreak with a grinder, while graduate student Alysha Brunelle applies a chlorine epoxy to reduce chance of disease progression across the coral.
A coral that has been treated multiple times over the past few months. Many corals are reinfected and require repeat treatments and monitoring.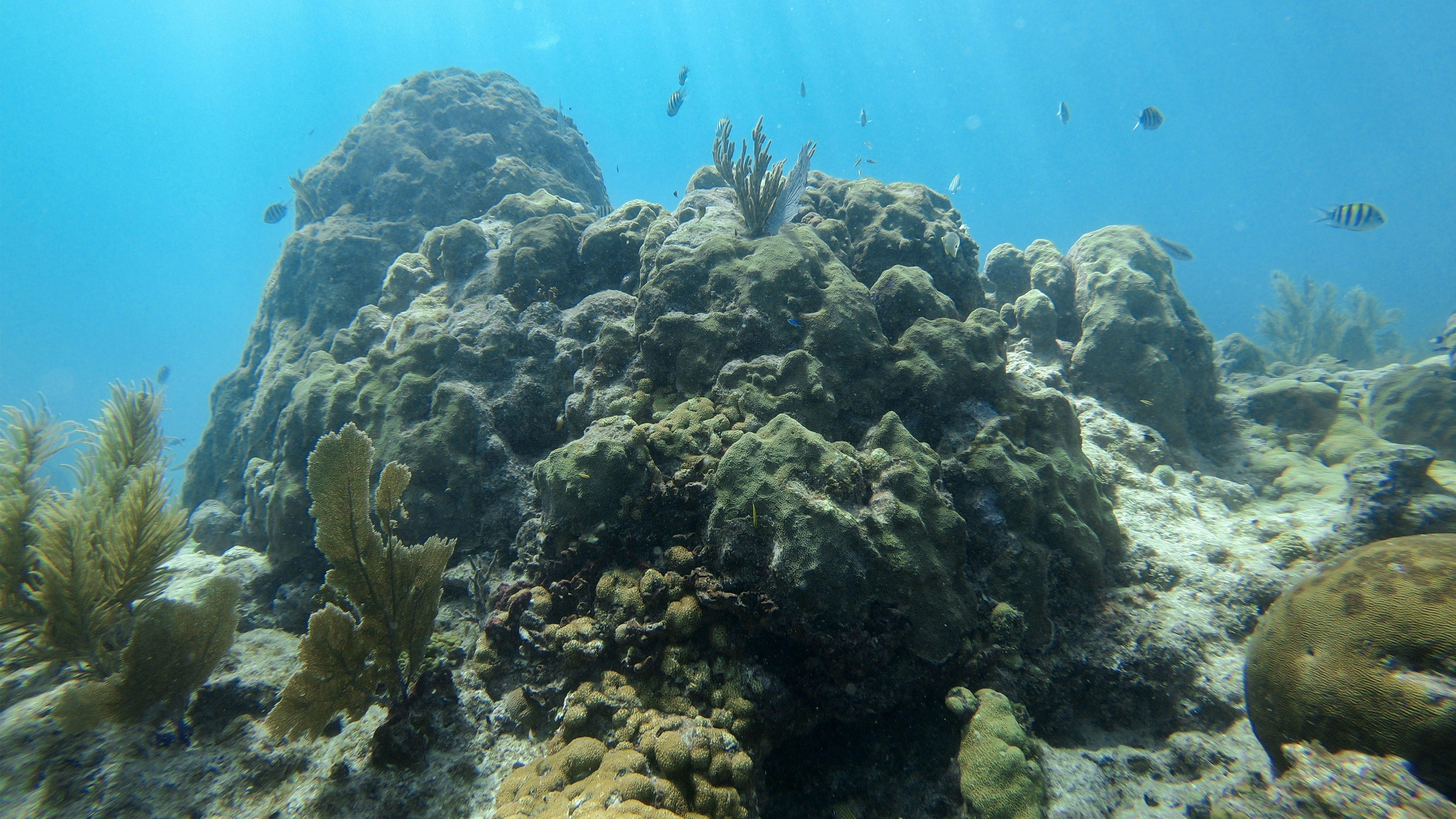 Looe Key is known for its beautiful coral reef. Many of its corals are affected by Stony Coral Tissue Loss Disease, including these boulder corals.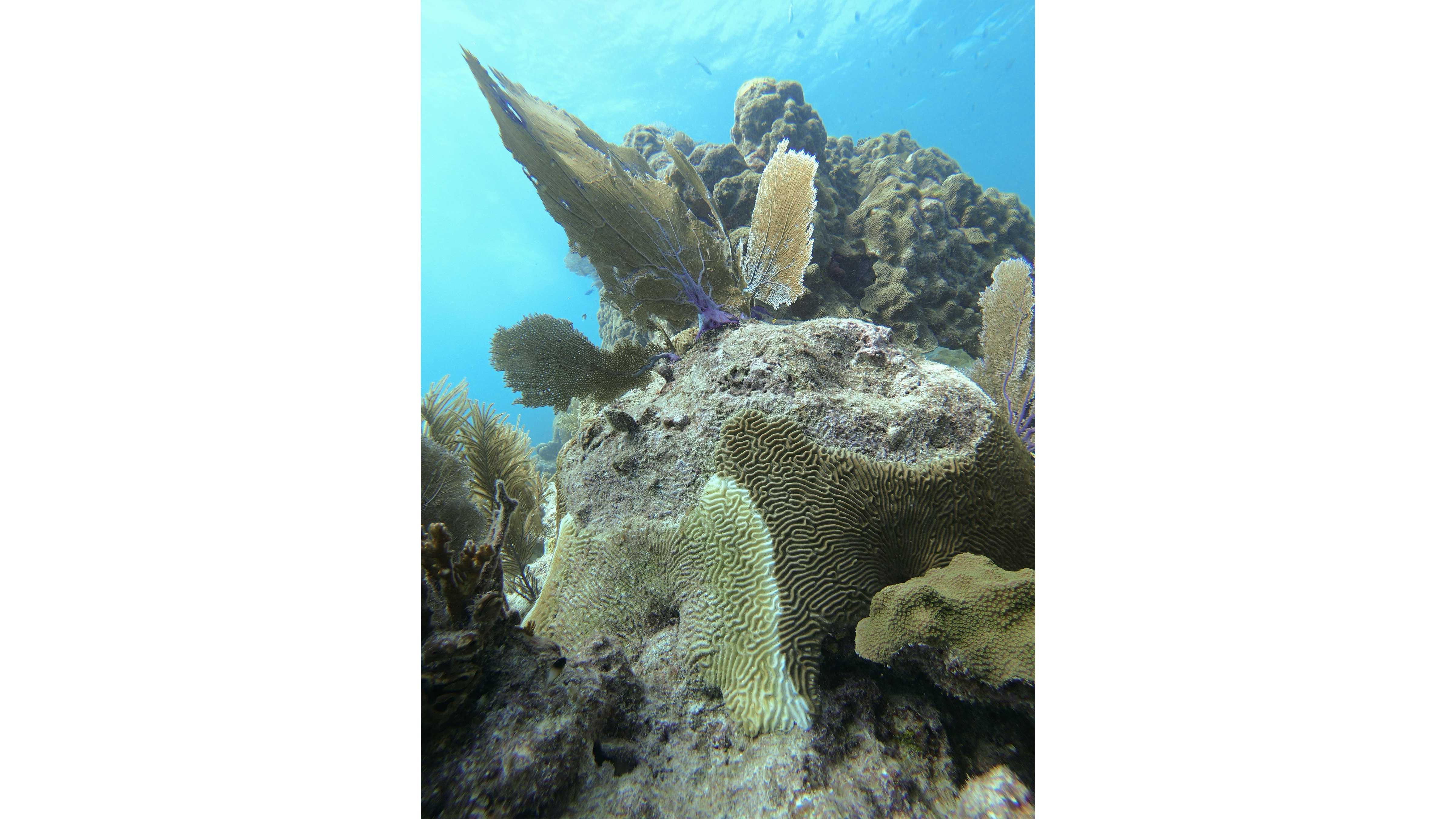 Symmetrical brain coral affected by stony coral tissue loss disease.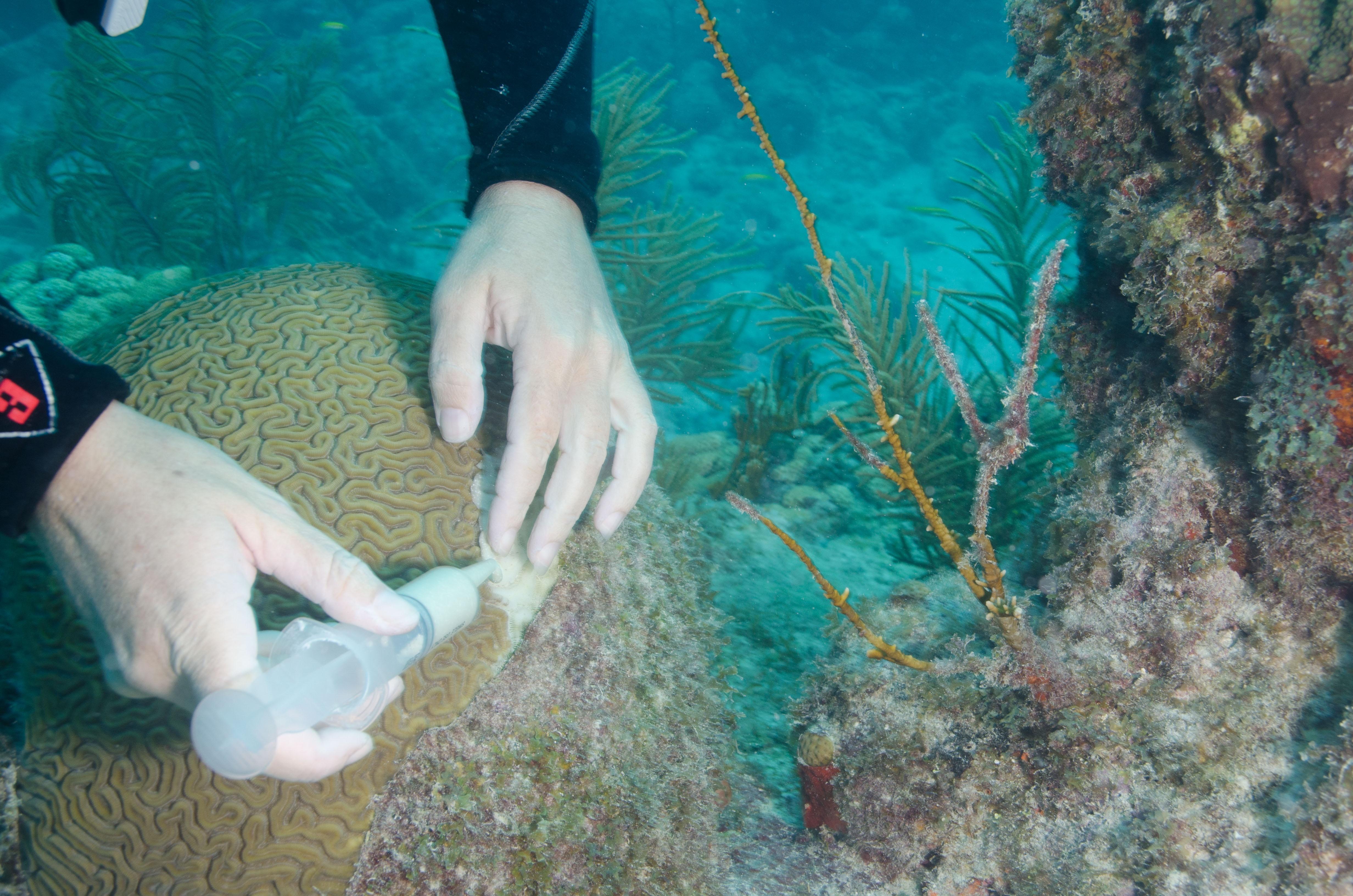 Karen Neely, Ph.D. applies antibiotic paste at the disease margin of affected corals to prevent the spread of the disease.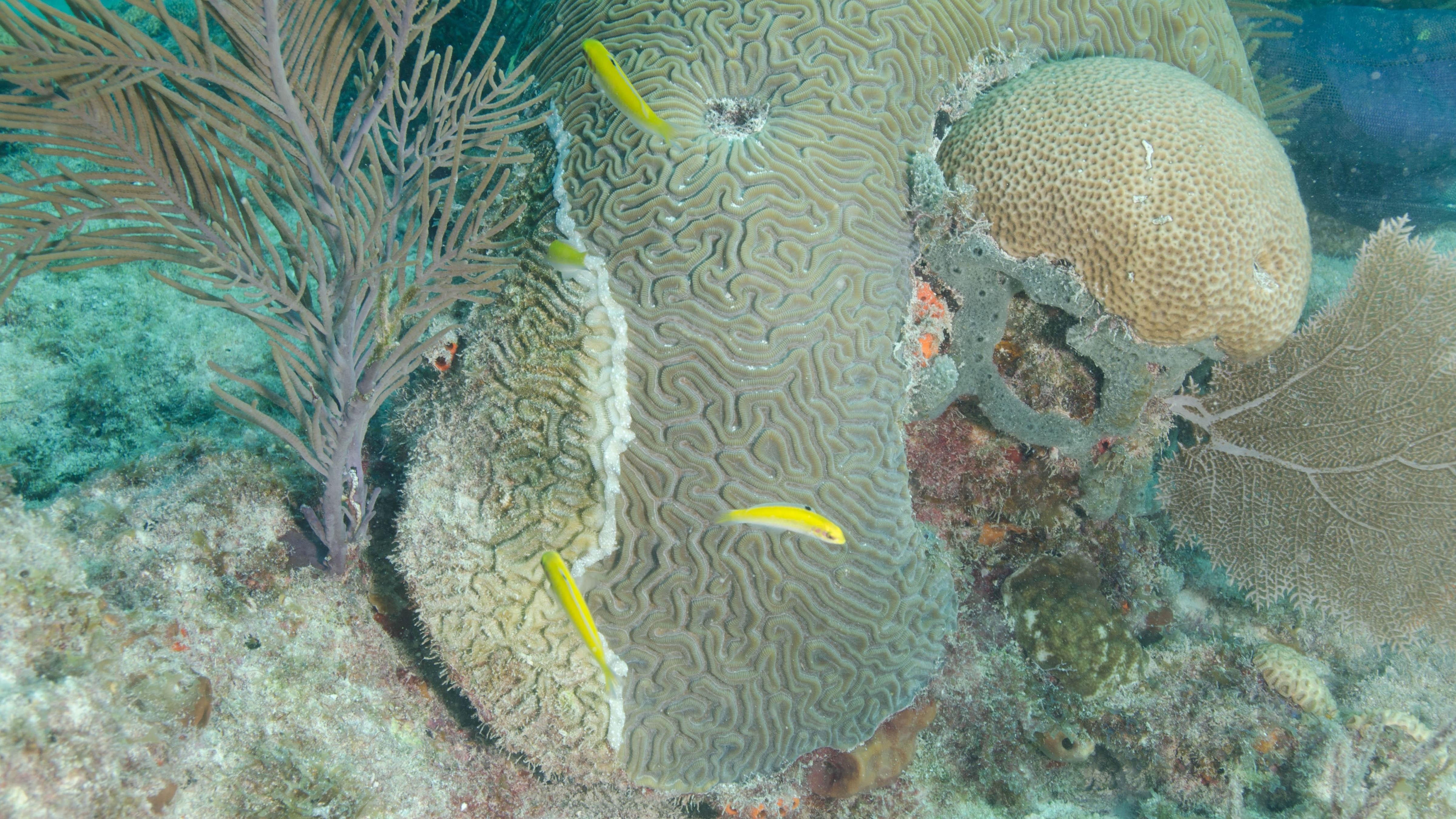 The white paste used to treat corals was developed by CoreRx in consultation with Keri O'Neil at the Florida Aquarium.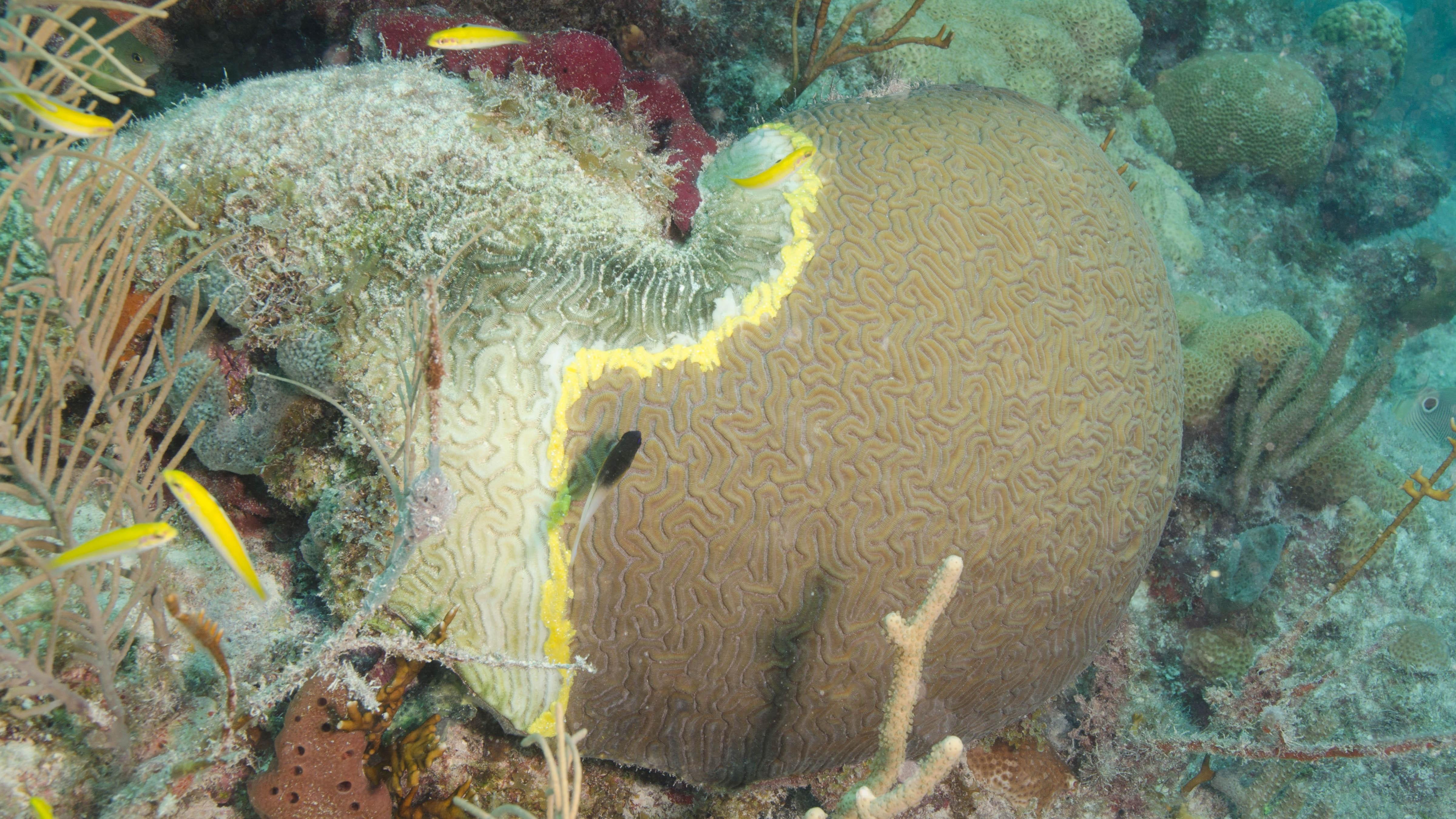 The yellow paste is made with shea butter. This treatment method was developed by Cheryl Woodley (NOAA-NOS) and adapted by Cindy Lewis (KML) for use in the field.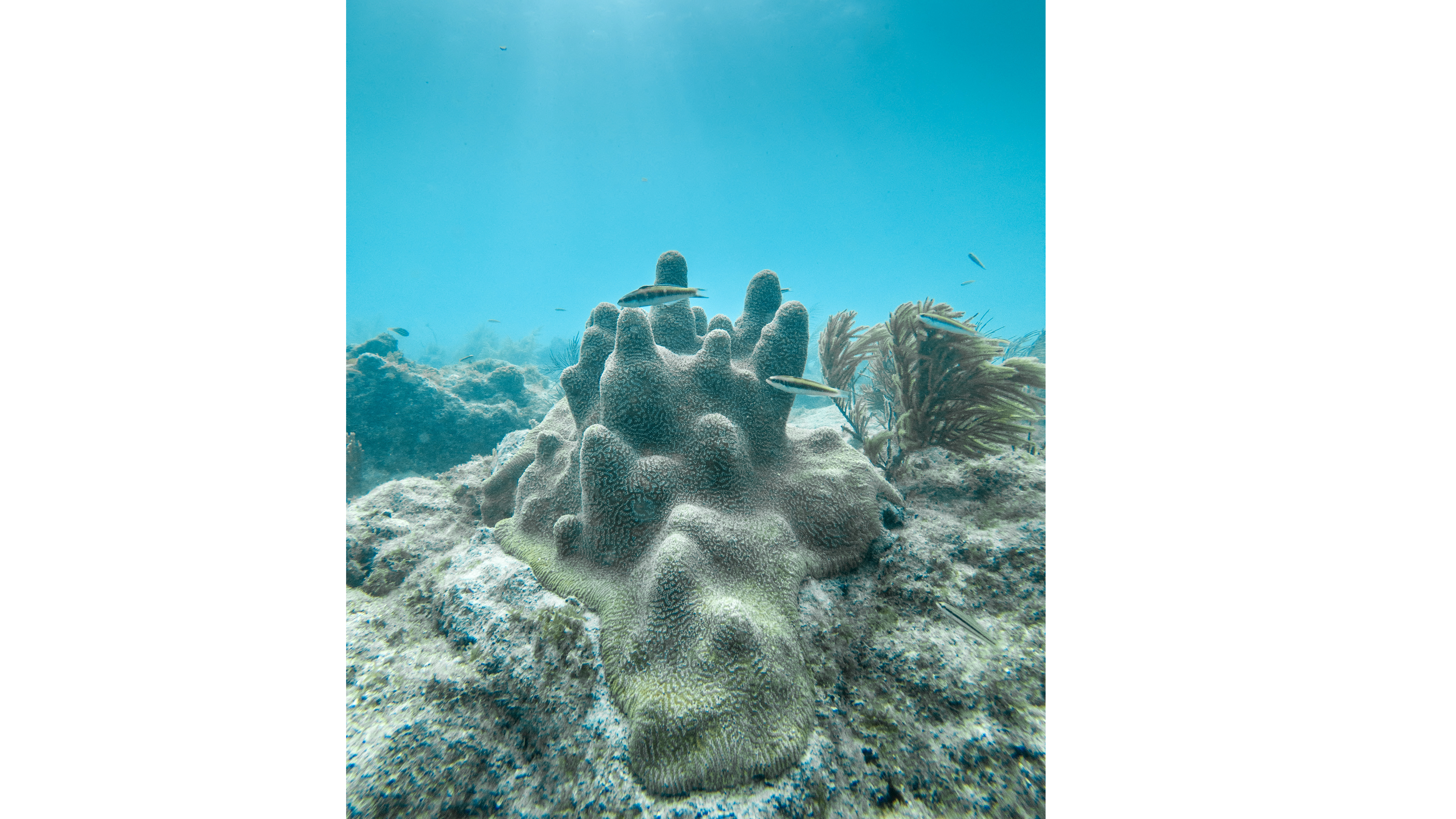 Apparently healthy pillar coral - one of the species most affected by Stony Coral Tissue Loss Disease.
A heavily diseased pillar coral colony.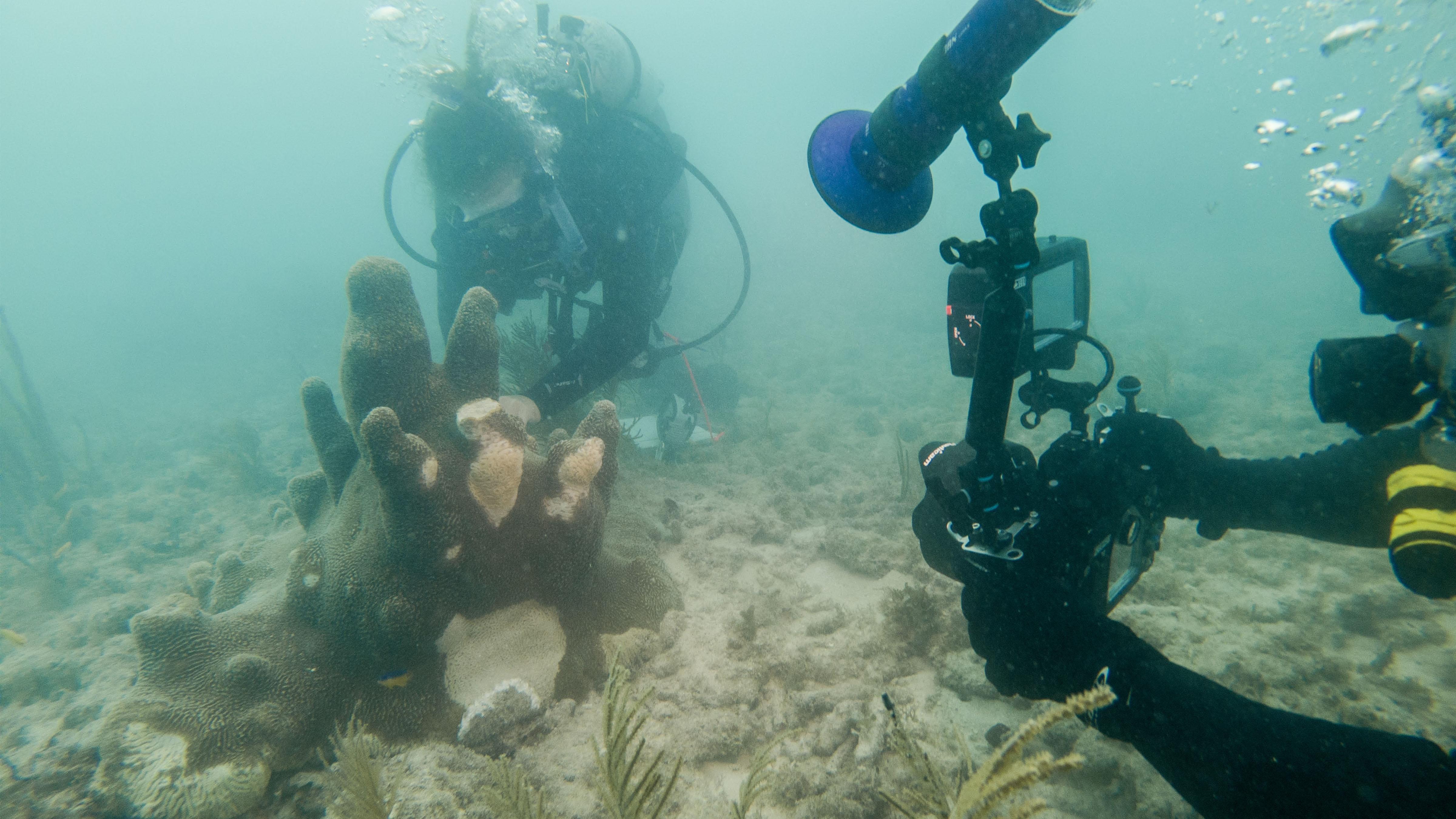 Karen Neely, Ph.D. collecting pillar coral from a diseased colony.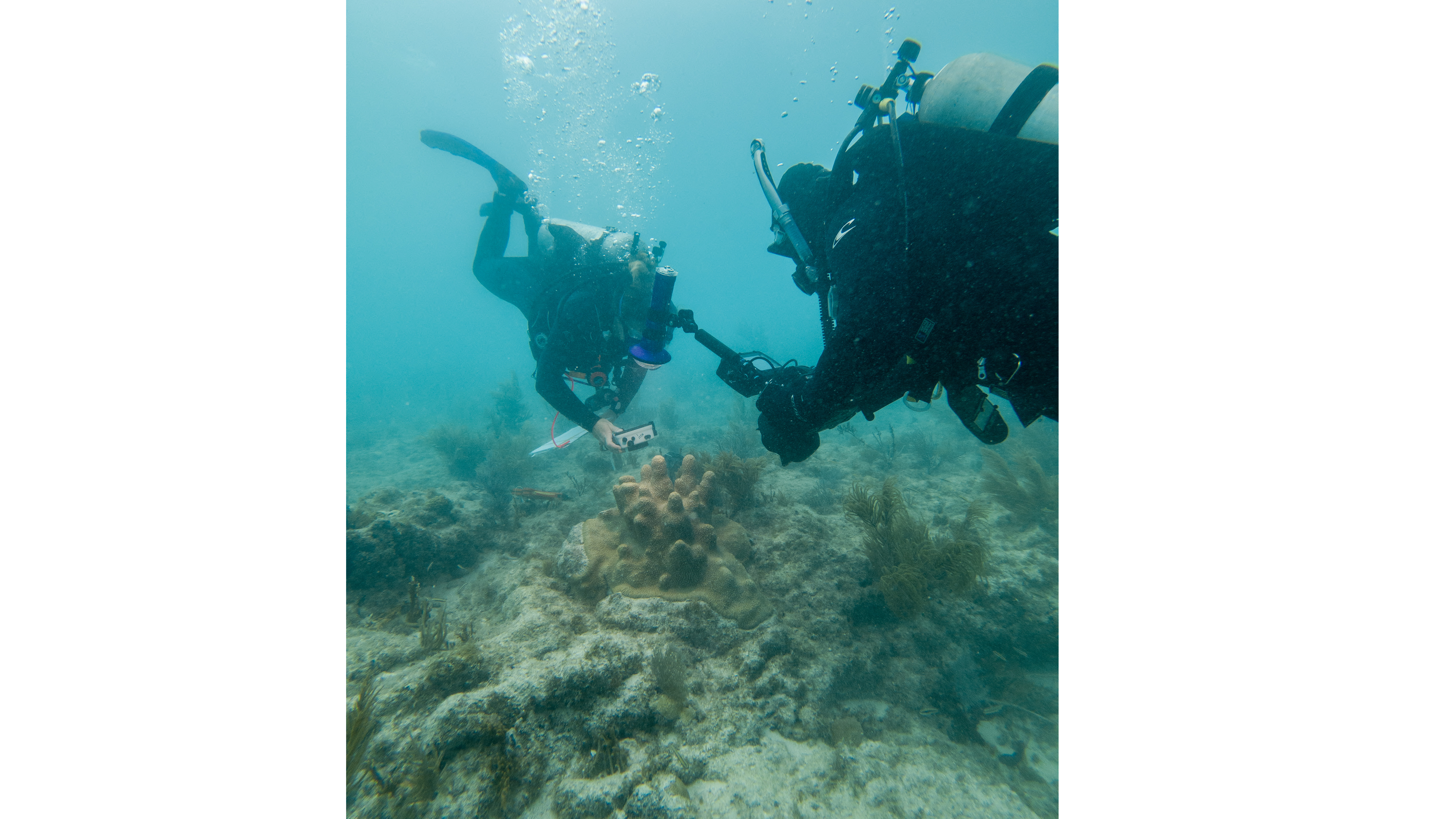 Director of Photography Sean Hickey films Karen Neely, Ph.D. as she is documenting a healthy pillar coral colony.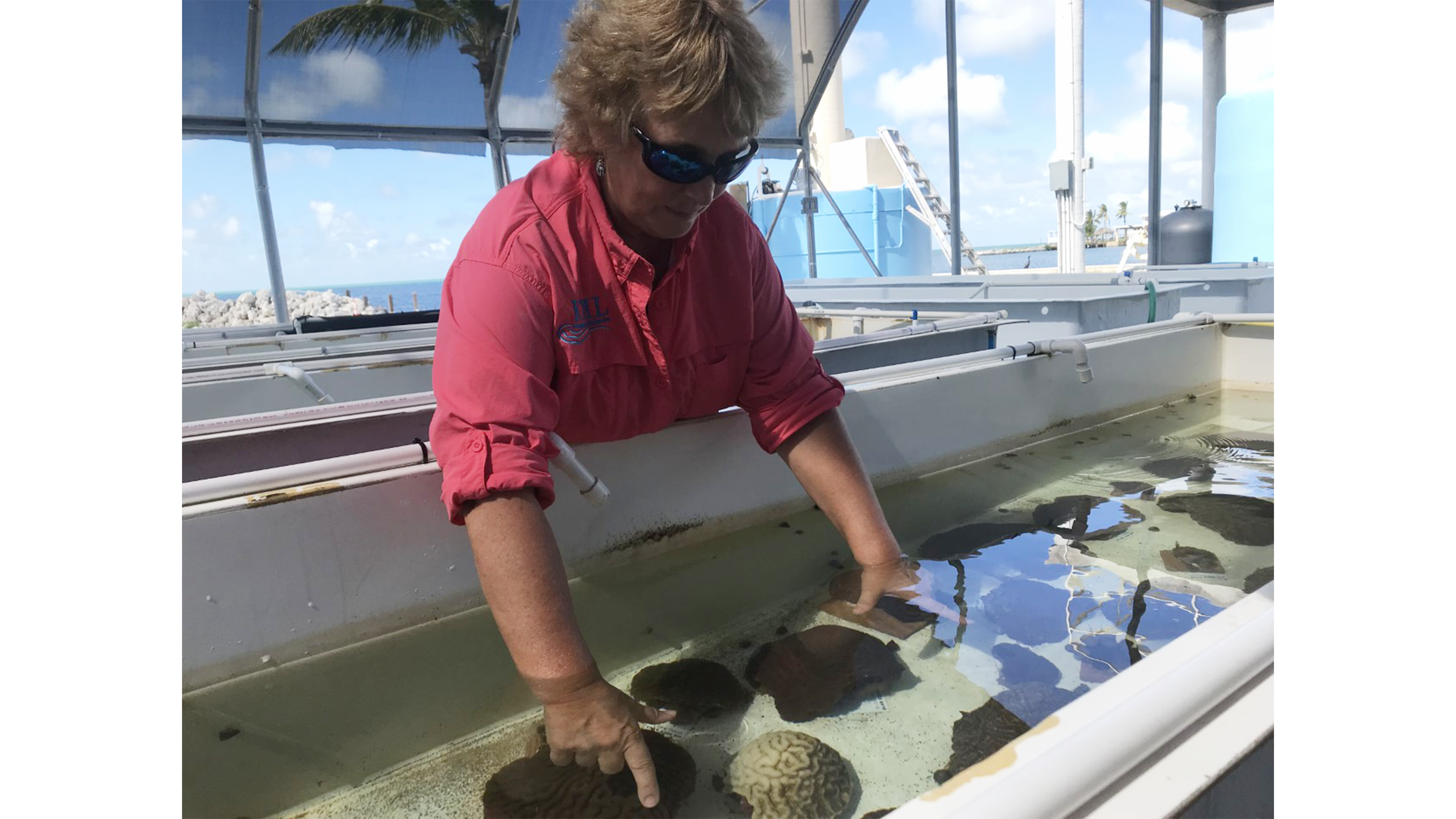 Keys Marine Lab Deputy Director Cindy Lewis, Ph.D. shows the crew stony corals that were rescued and moved to the lab to protect them from Stony Coral Tissue Loss Disease.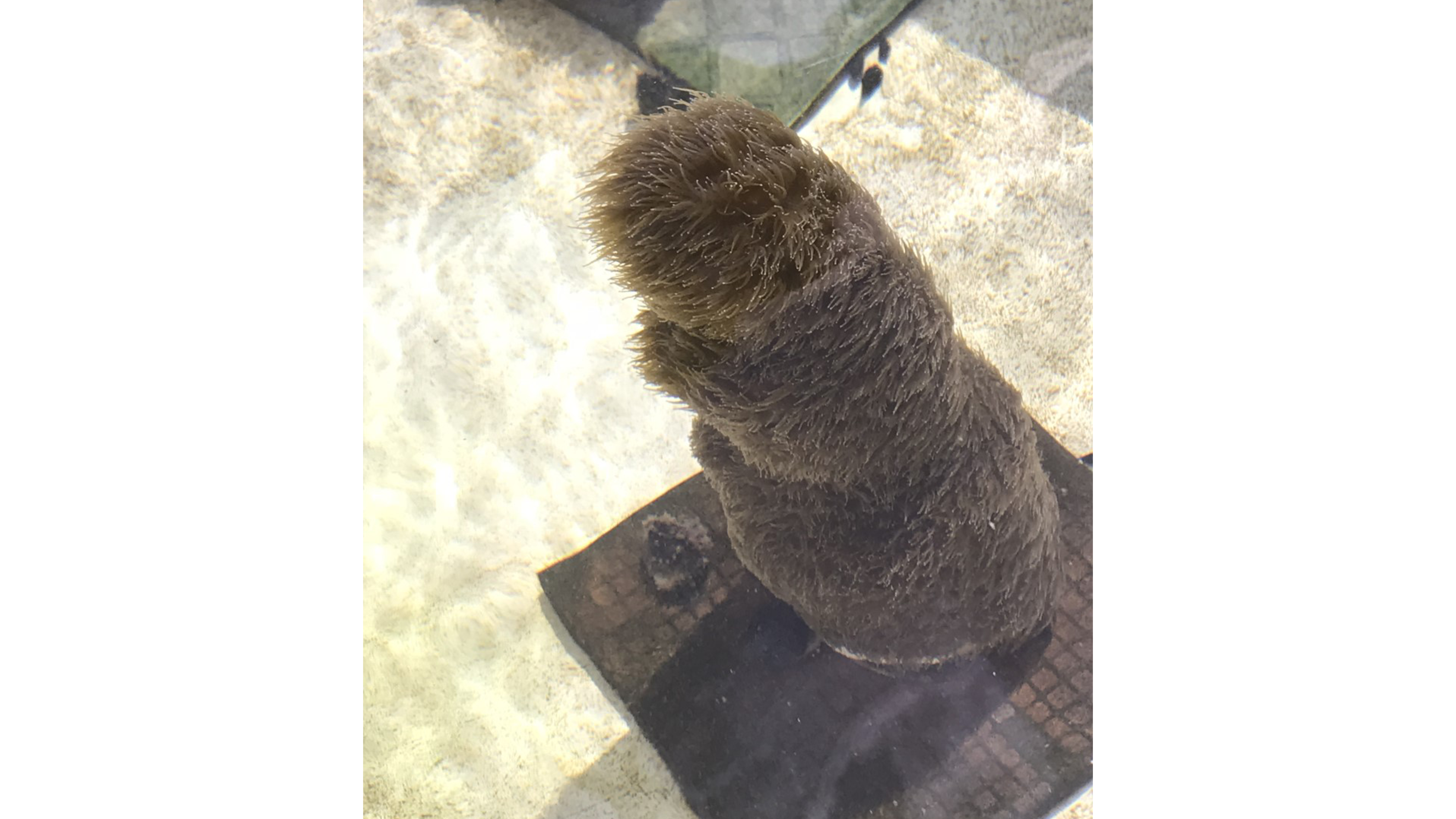 A fragment of pillar coral being held at Keys Marine Laboratory.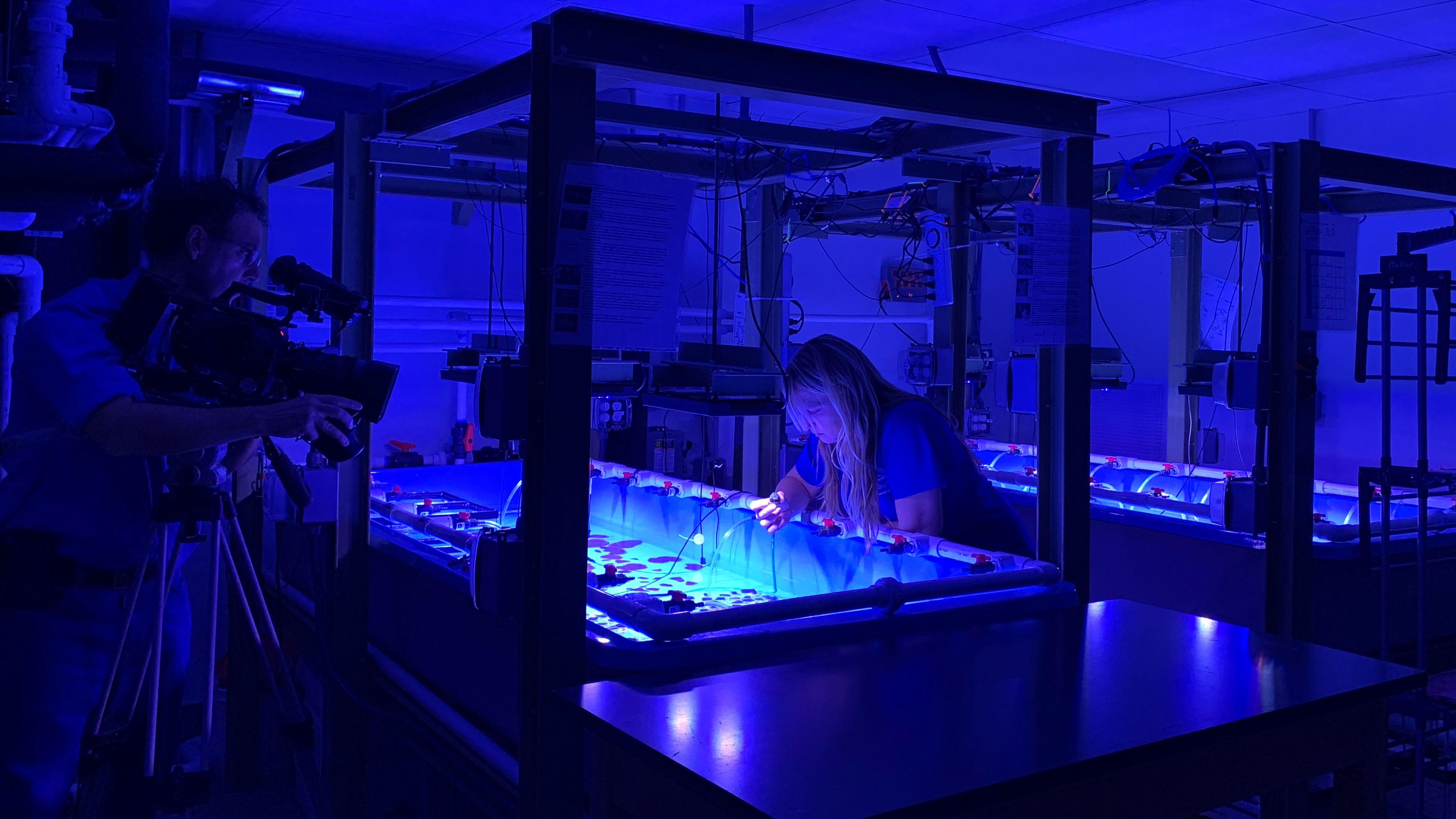 Videographer Mike Malanga films Erinn Muller, Ph.D. taking a look at corals stored at Mote Marine Laboratory in Sarasota, FL.
Close-up of a great star coral affected by Stony Coral Tissue Loss Disease.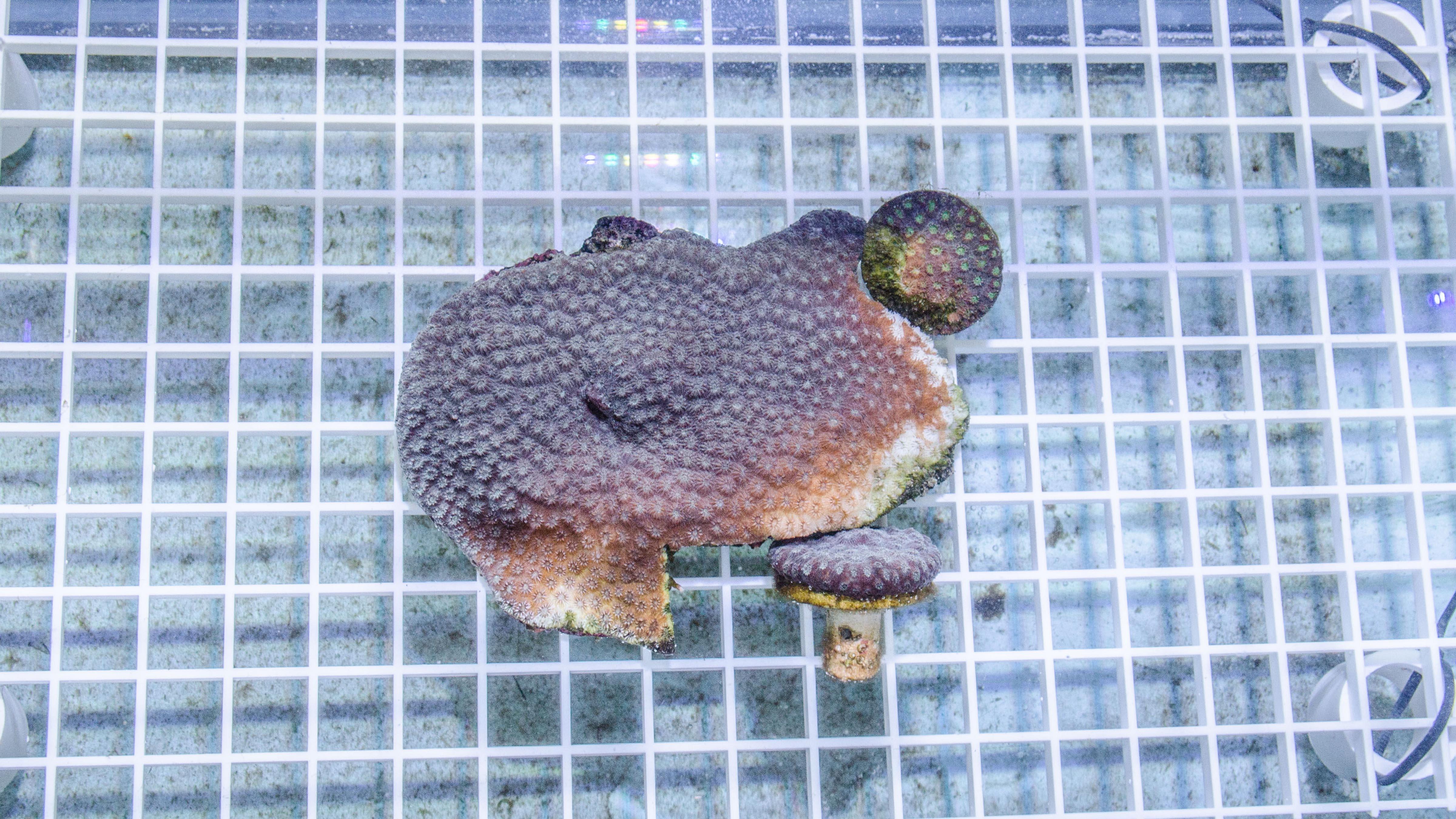 Two microfragment plugs of mountainous star coral are placed touching a diseased coral to see if transmission occurs.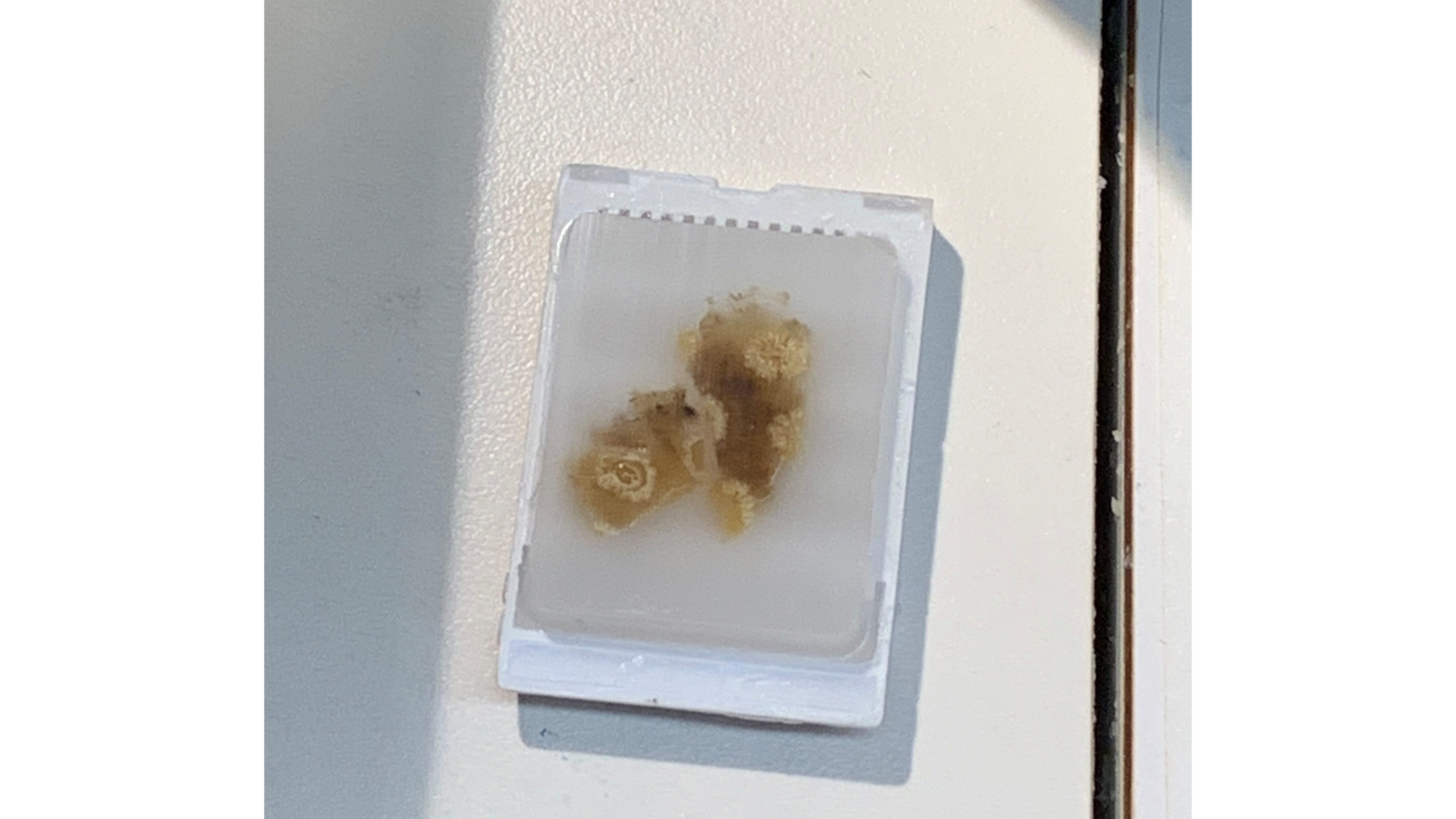 A block of coral tissue after the skeleton has been dissolved from the sample.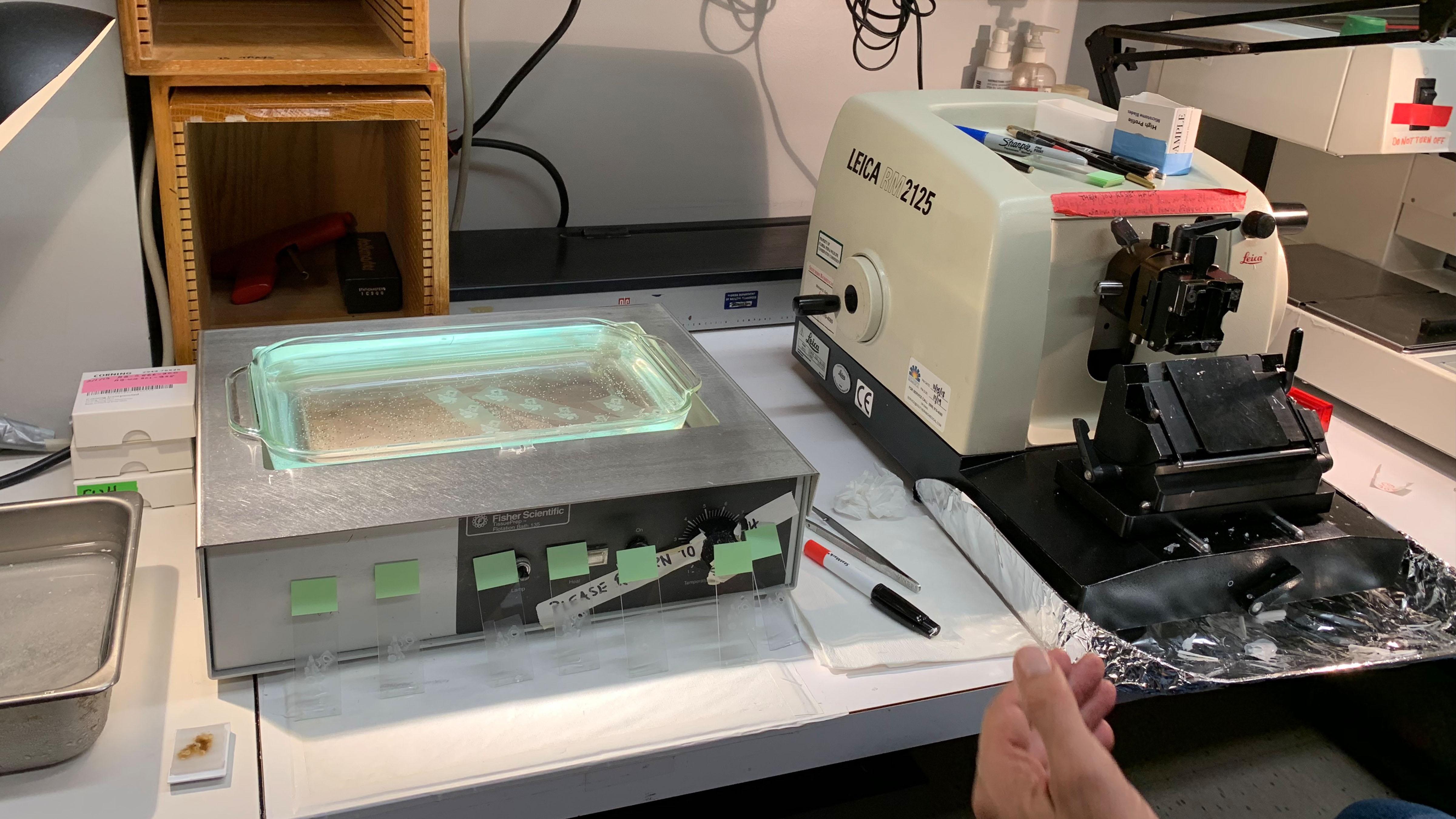 Slides of coral tissue. Different stains will be added to the slides to highlight various parts of the tissue.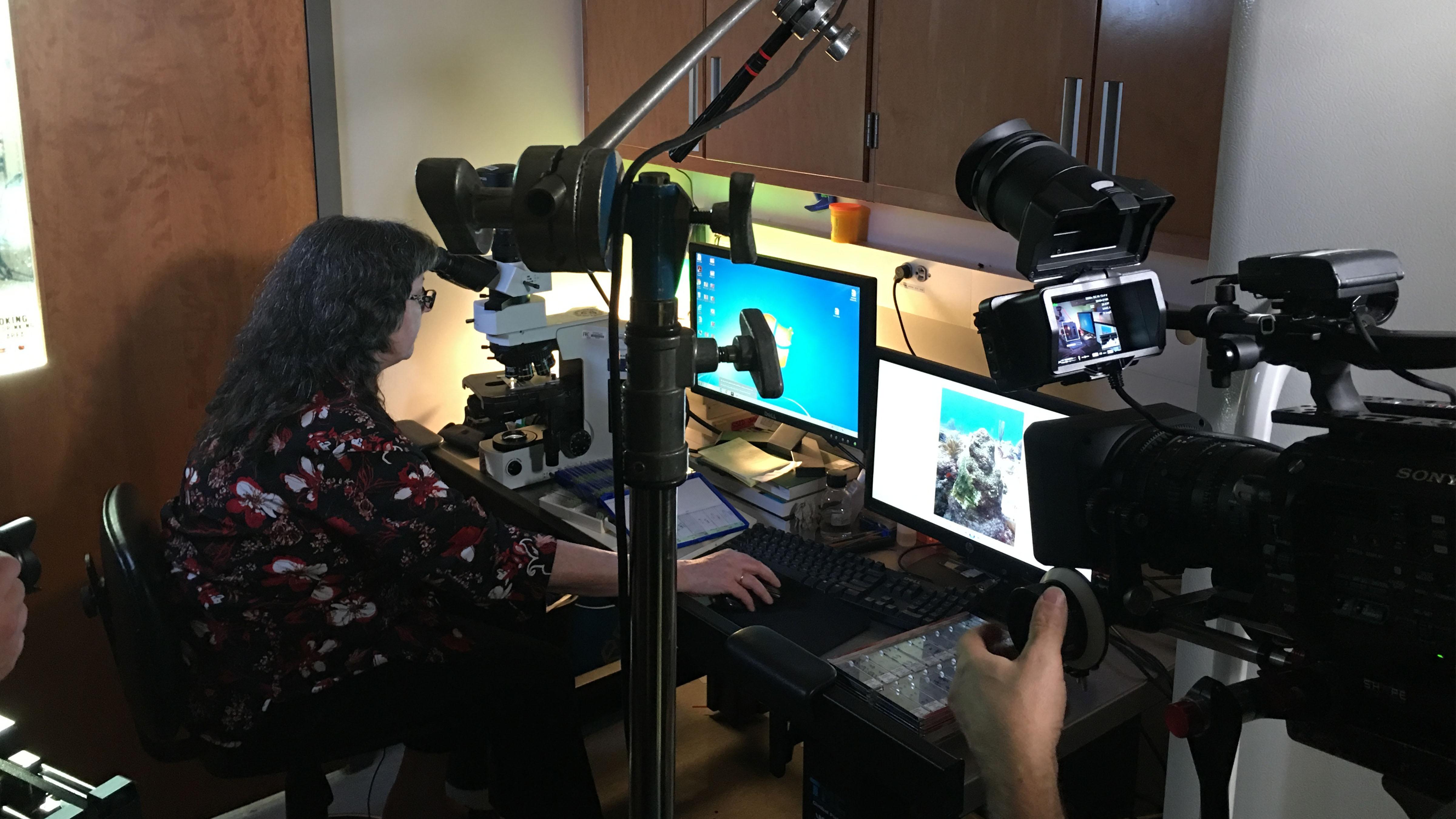 Jan Landsberg, Ph.D. and her colleagues at FWC's Fish and Wildlife Research Institute are taking a microscopic look at what might be causing the disease.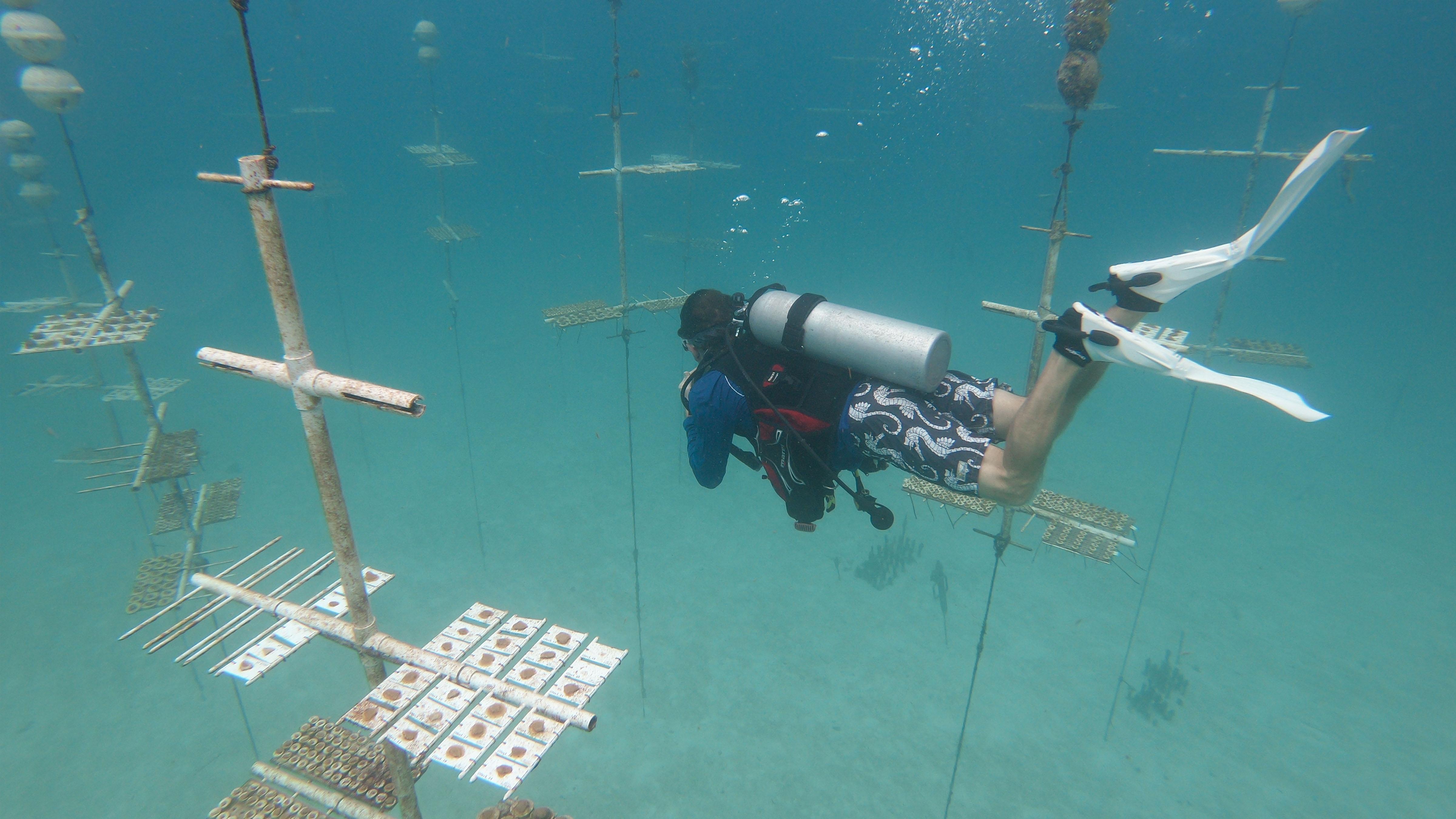 Florida Keys National Marine Sanctuary Research Coordinator Andy Bruckner, Ph.D. swims through the Coral Restoration Foundation's coral nursery.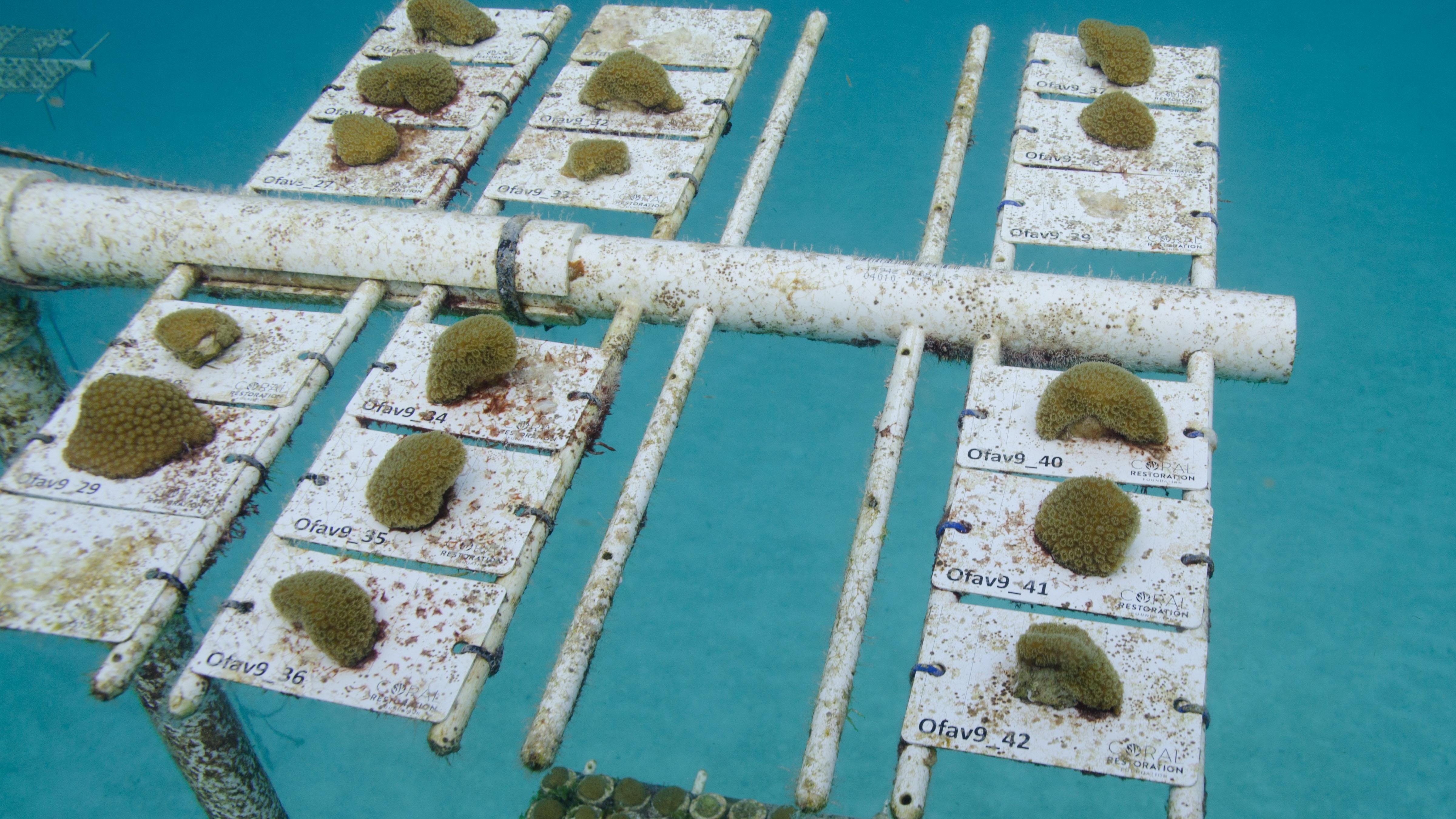 Each card on the Coral Restoration Tree contains the name of the genus and species of coral and an ID number for records.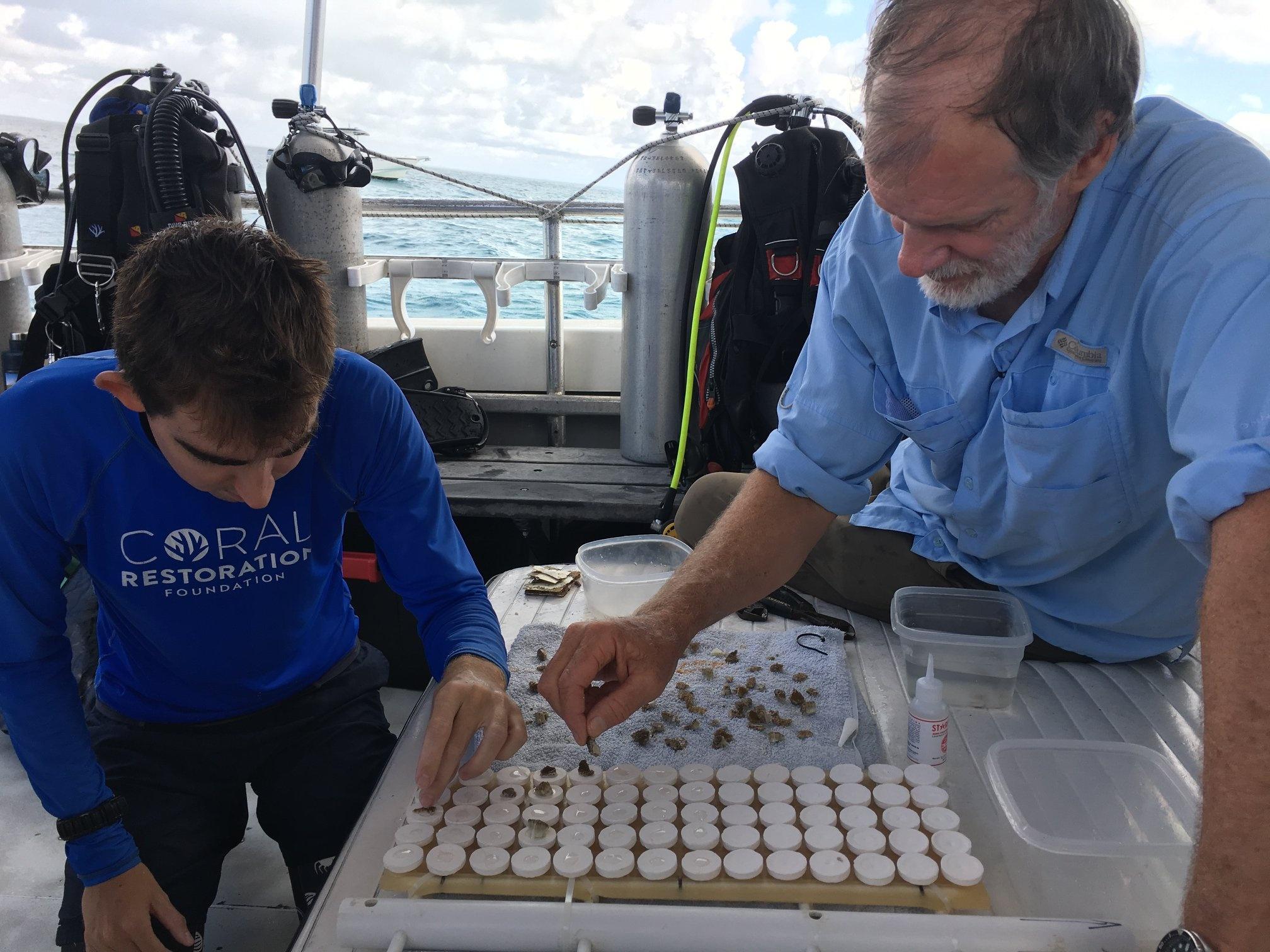 Experts Dan Burdeno (left) and Ken Nedimyer (right) turn pieces of coral into smaller fragments and then glue them onto discs to grow in the Coral Restoration Nursery.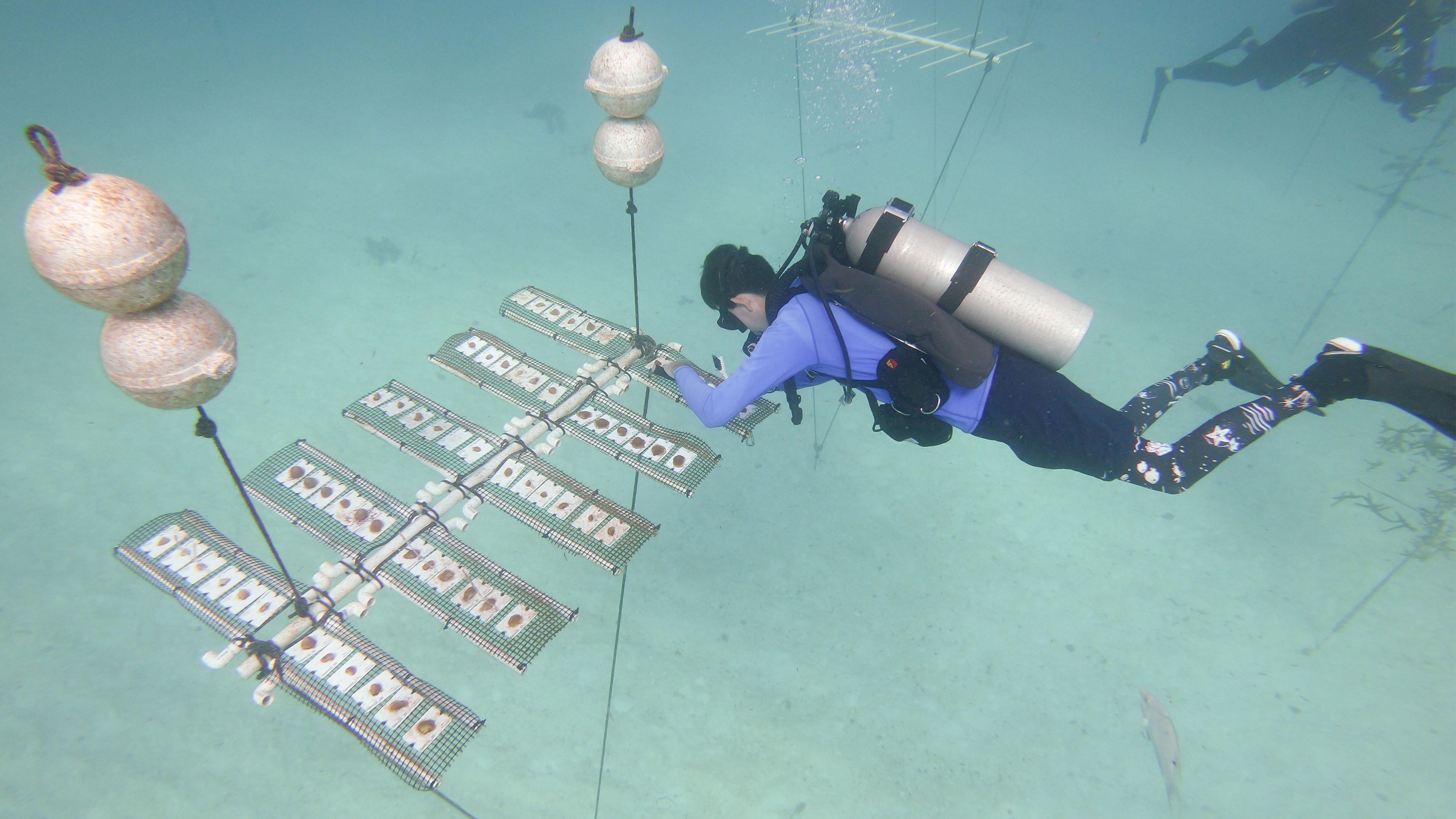 Coral Restoration Foundation's Daniel Burdeno cleaning a Coral Restoration Tree.
Looe Key Reef Resort and Dive Center
27340 Overseas Hwy
Ramrod Key, FL 33042
(305) 872-2215
Hotel Indigo Sarasota
1223 Boulevard of the Arts
Sarasota, FL 34236
(941) 487-3800
Ponce de León Hotel
95 Central Avenue
St. Petersburg, FL 33701
(727) 550-9300
Funding for this episode of Changing Seas was provided by: