Episode 1302: At the Water's Edge: The Salt Marsh
The southeast and Gulf coasts of the United States are famous for their extensive salt marshes. These coastal wetlands provide a vital nursery ground for many marine species, they filter nutrients and contaminants from the water, and serve as buffers during storms.
The University of Georgia's Marine Institute on Sapelo Island has long been a world-renowned field site for salt marsh ecologists. Since 2000 it also serves as the home base for the Georgia Coastal Ecosystems Long Term Ecological Research program, which seeks to understand how these ecosystems function, how they change over time, and how they might be affected by climate change in the future.
On nearby Tybee Island, scientists from the Skidaway Institute of Oceanography are part of a study that examines how well the marshes found on the backside of this popular tourist destination are keeping up with sea level rise.
Meanwhile, scientists with the Florida Fish and Wildlife Conservation Commission's Garcon Point Lab near Pensacola, on Florida's Gulf coast, conduct research on three fishes that spend time in the salt marsh – the prehistoric-looking alligator gar and Gulf sturgeon, and the tiny saltmarsh topminnow.
Experts
Meet the experts featured in this episode.
Episode Photos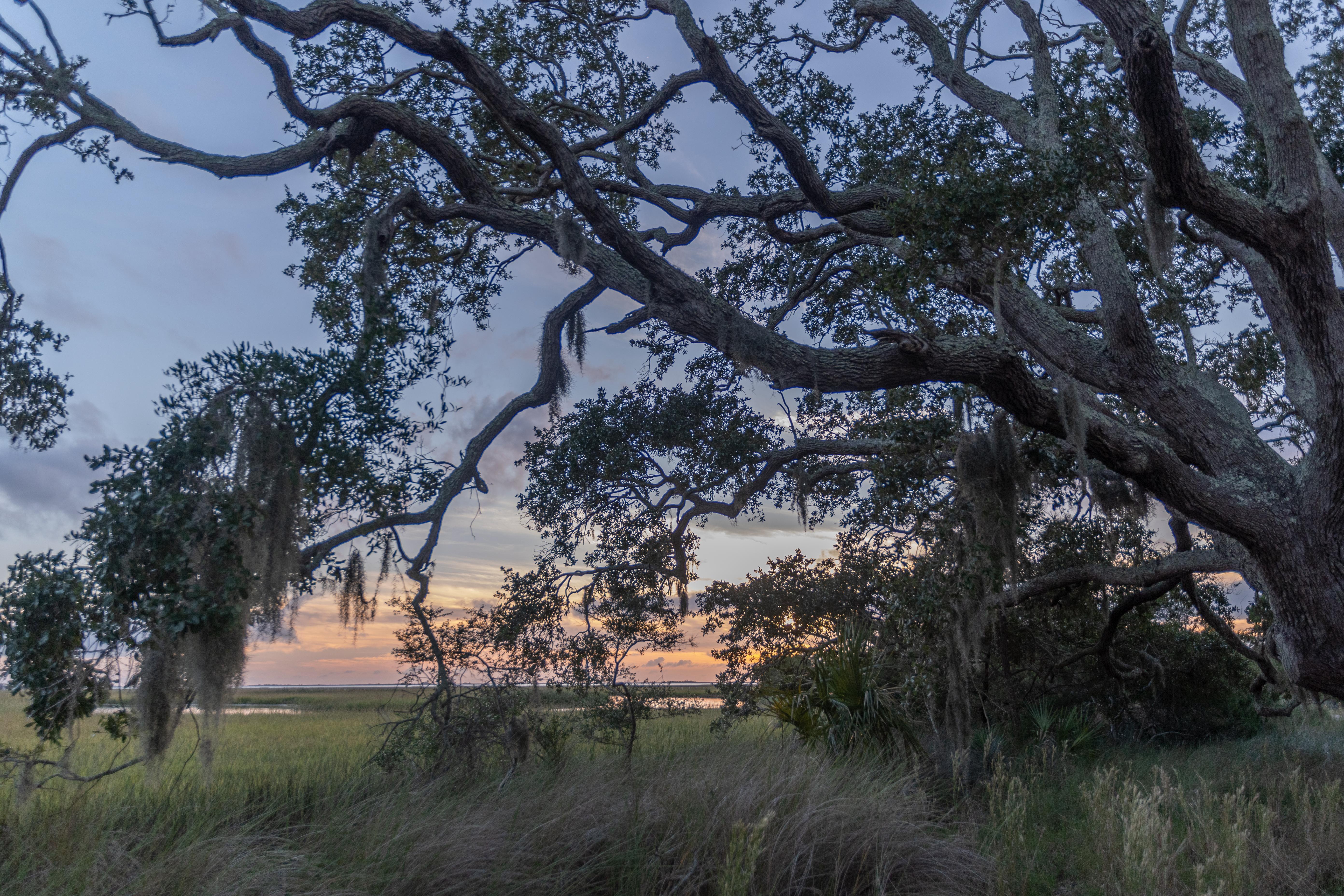 The southeast coast of the United States is famous for its extensive salt marshes. In coastal Georgia, moss-draped live oaks give way to vast expanses of grass, broken up only by winding creeks.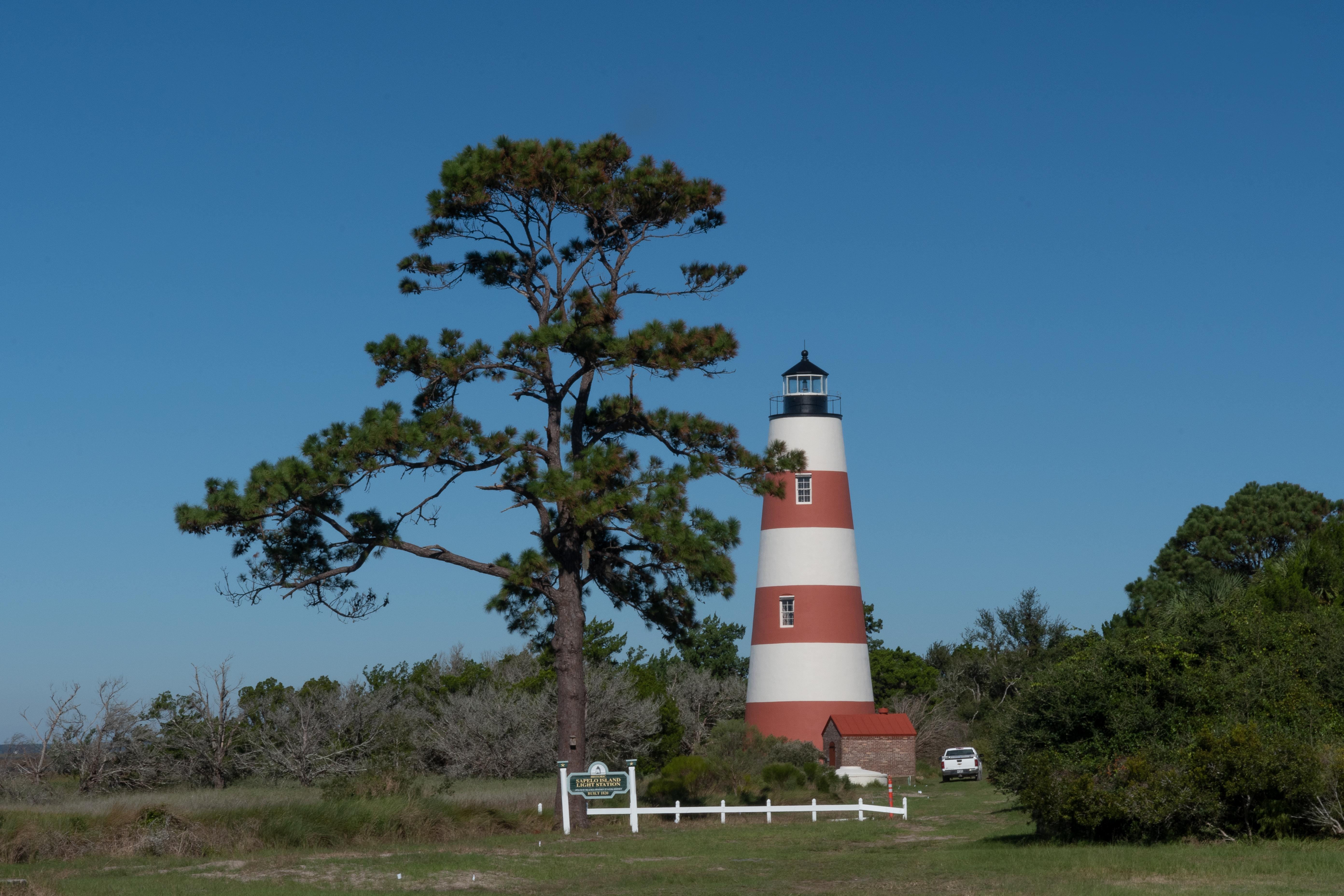 Sapelo Island, about an hour south of Savannah, is home to the University of Georgia's Marine Institute, which has a long history of salt marsh research dating back to the middle of the last century.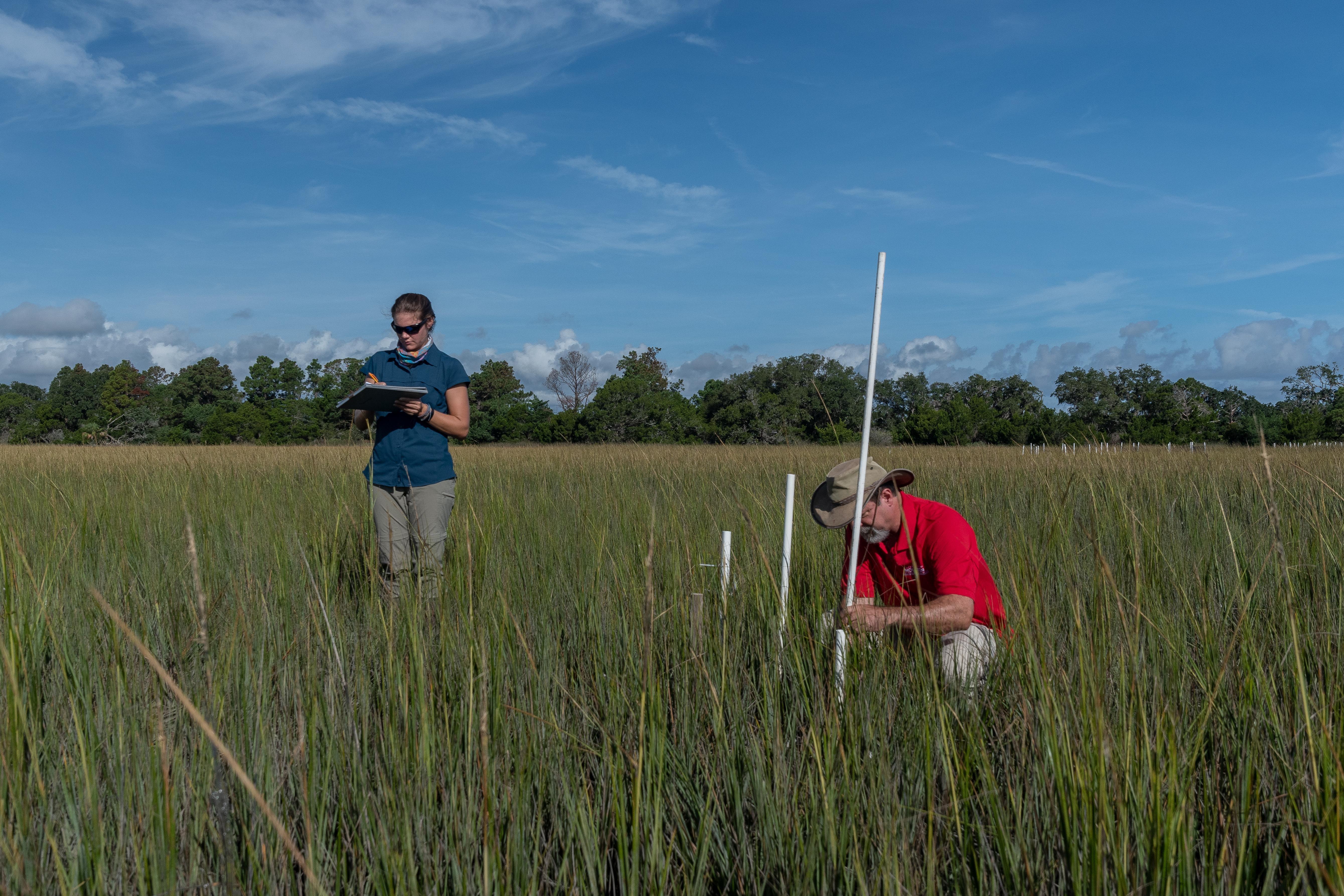 Since 2000 scientists collect annual data to assess the functioning of the marsh on Sapelo as part of the Georgia Coastal Ecosystems Longterm Ecological Research program.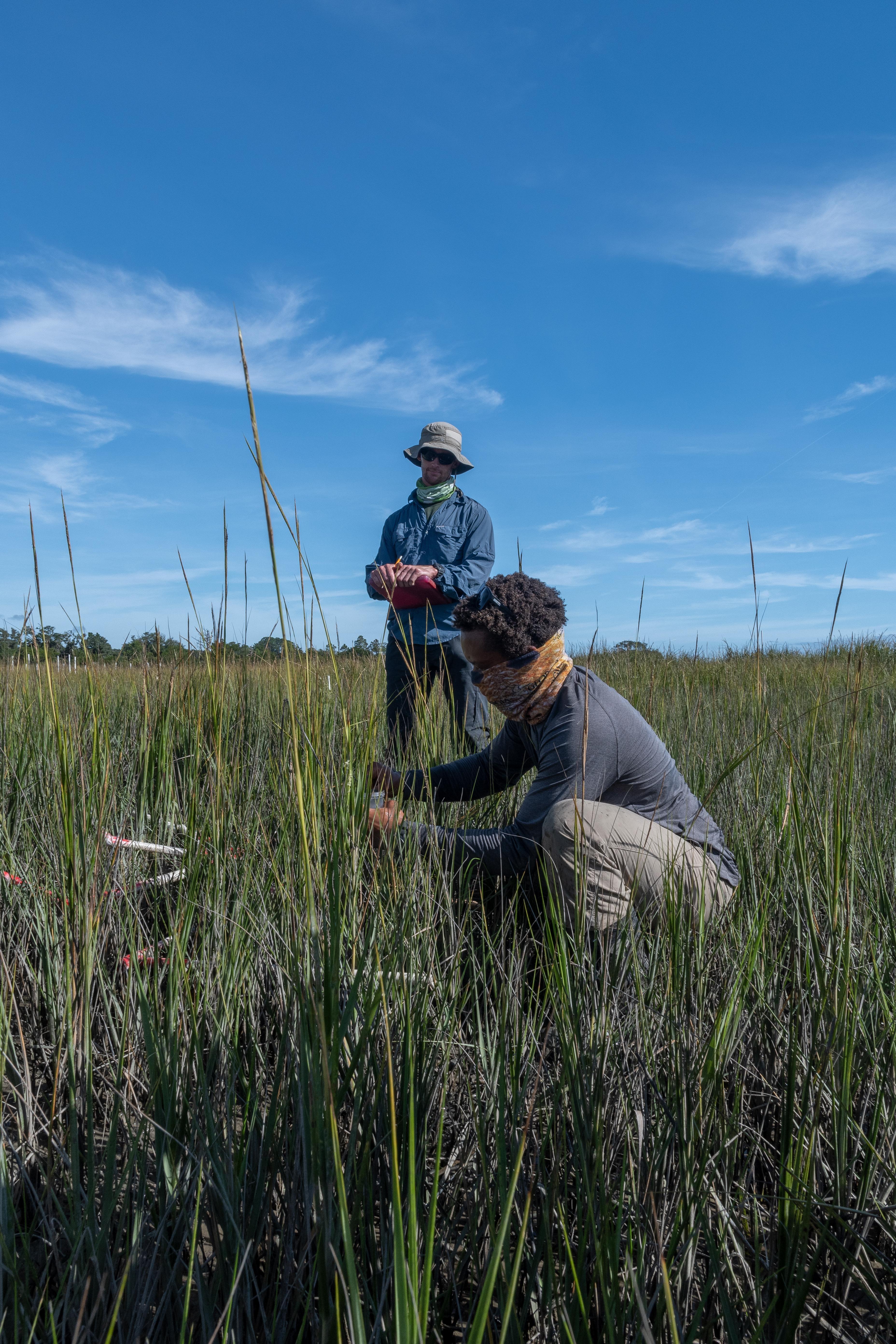 In addition to measuring the plant growth, scientist also count the number of invertebrates found at their study sites in the salt marsh.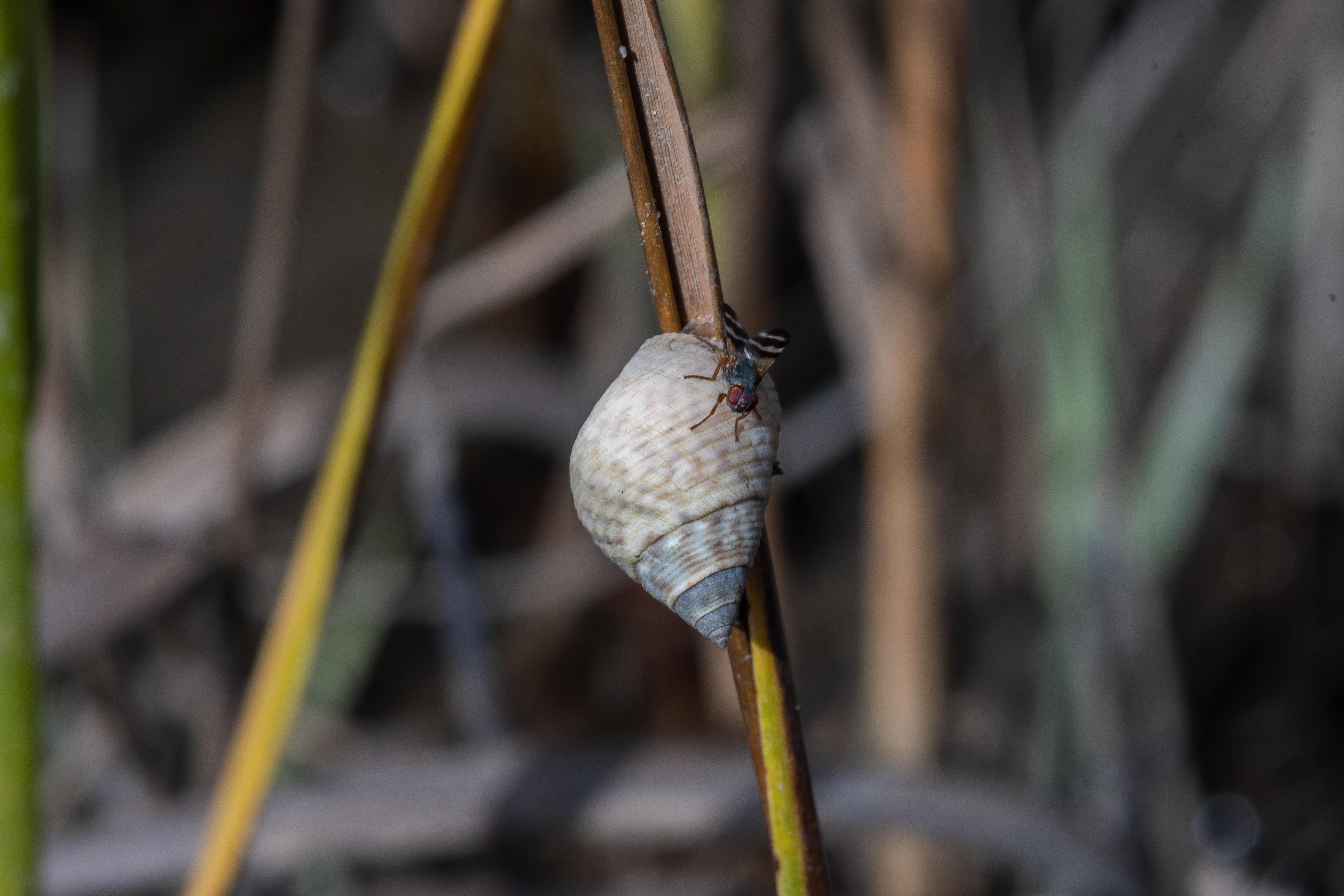 One of the common invertebrates found in the salt marsh is the Periwinkle snail. It feeds on fungus that is decomposing marsh plants.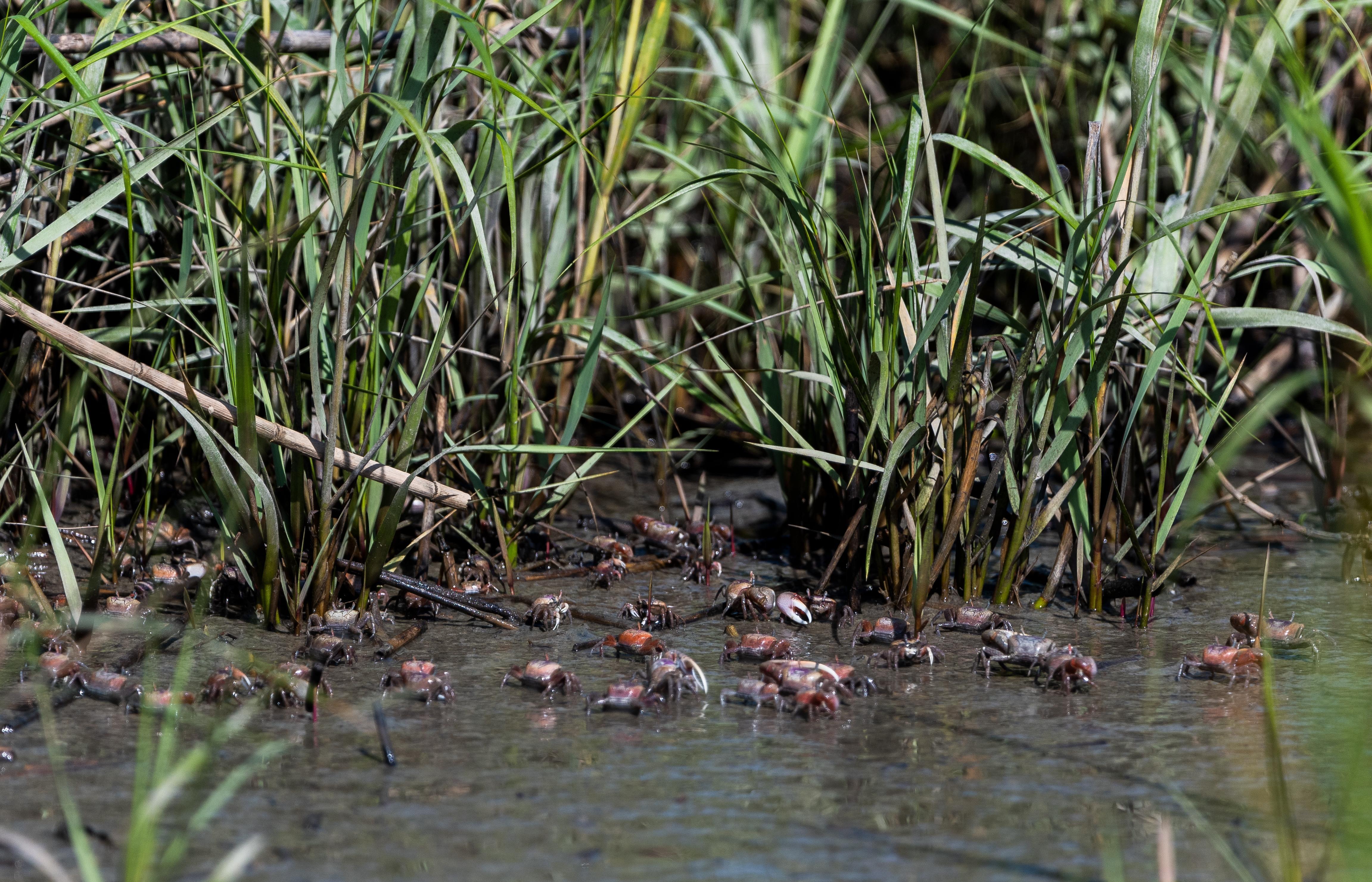 Another common invertebrate is the fiddler crab, which digs burrows that help nutrients to enter the soil.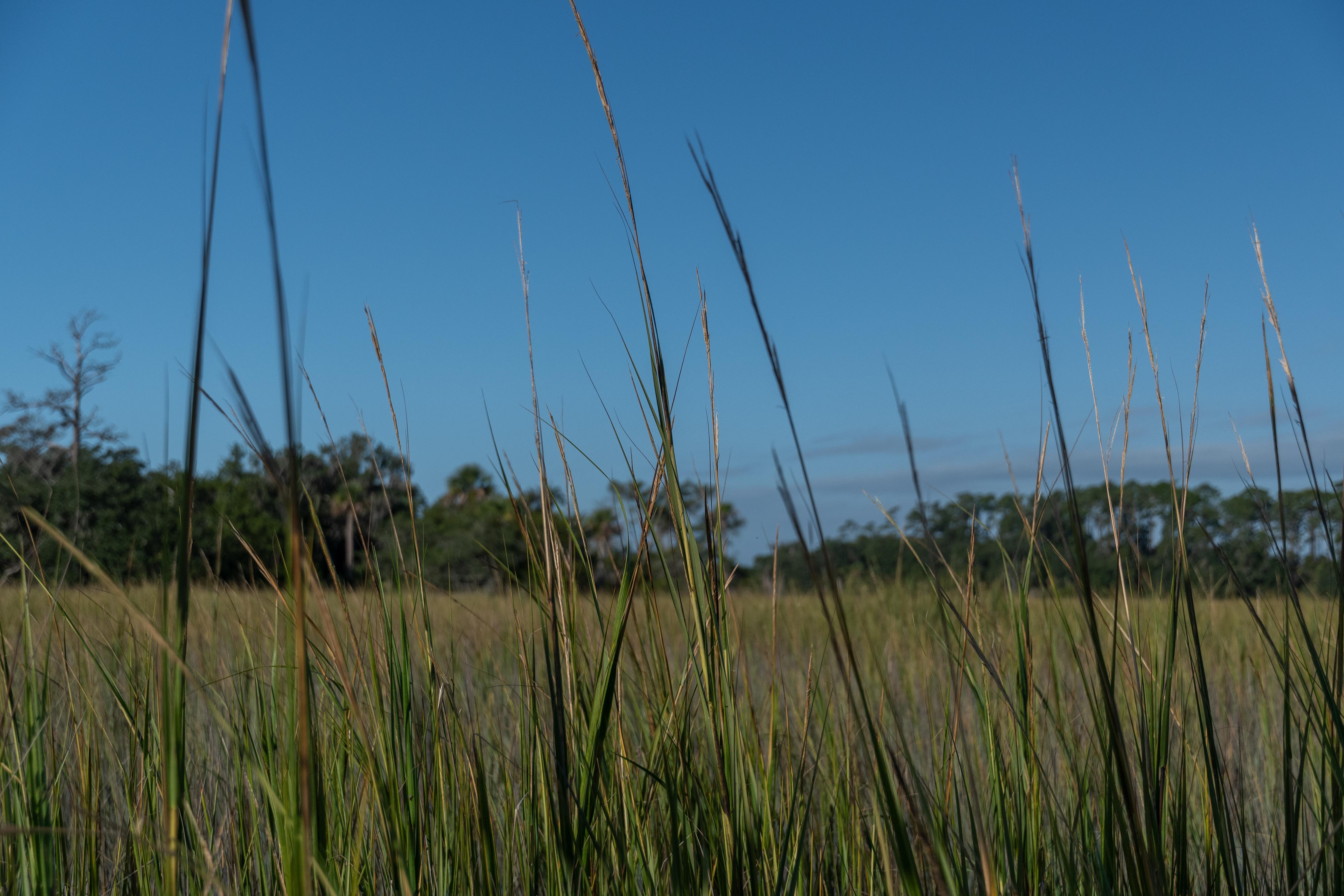 Spartina alterniflora is the dominant grass species found in tidal salt marshes in the South. These coastal wetlands can bury carbon at a rate that's 10-100 times higher than upland forests.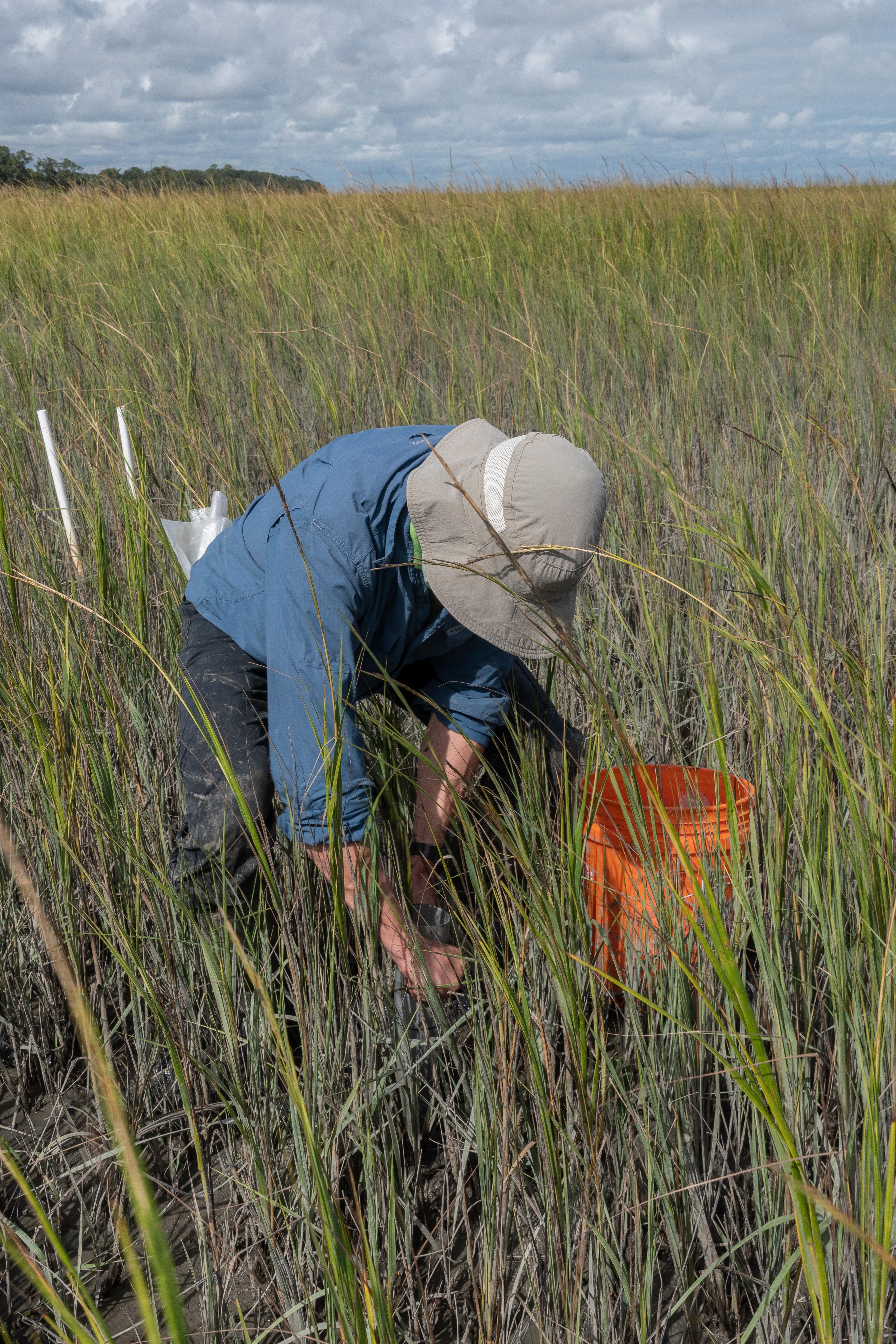 To better track the fate of the carbon, the researchers study the above and belowground biomass of the plants by taking monthly cores of short, medium and tall spartina found in different areas of the salt marsh.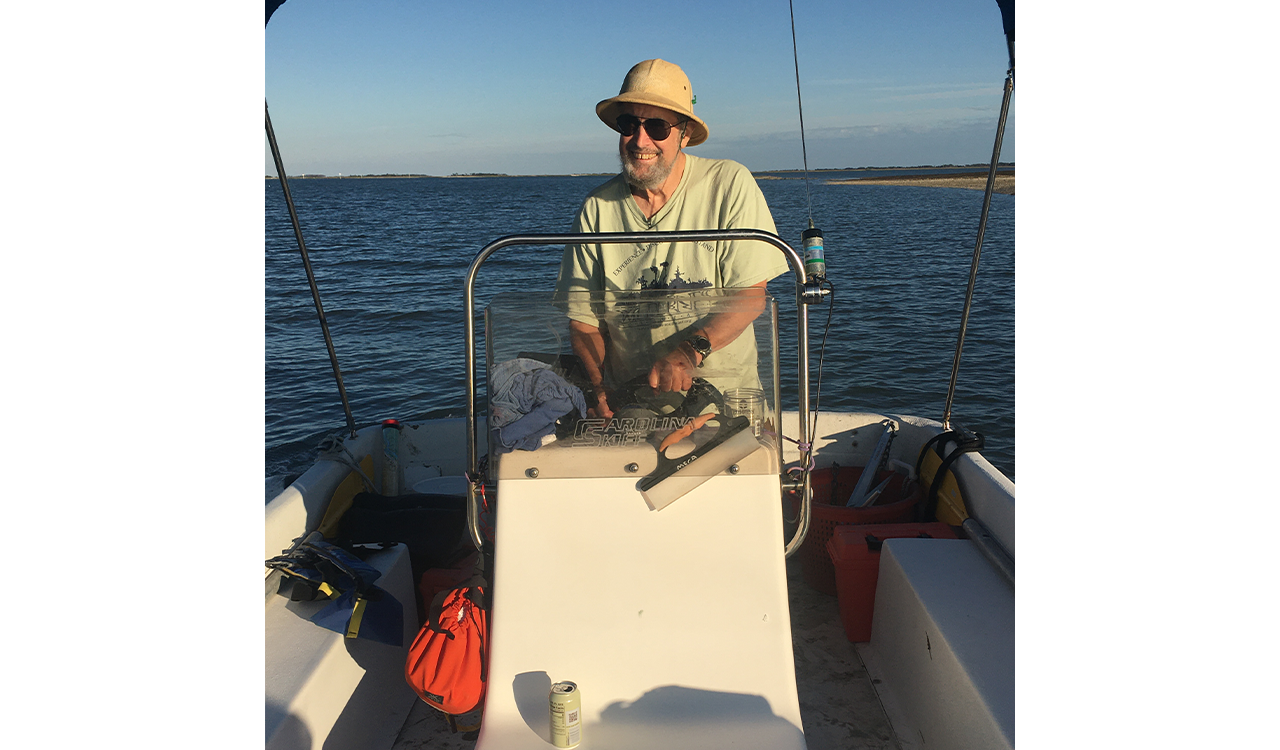 Captain John "Crawfish" Crawford has extensive knowledge of the salt marsh surrounding Skidaway Island.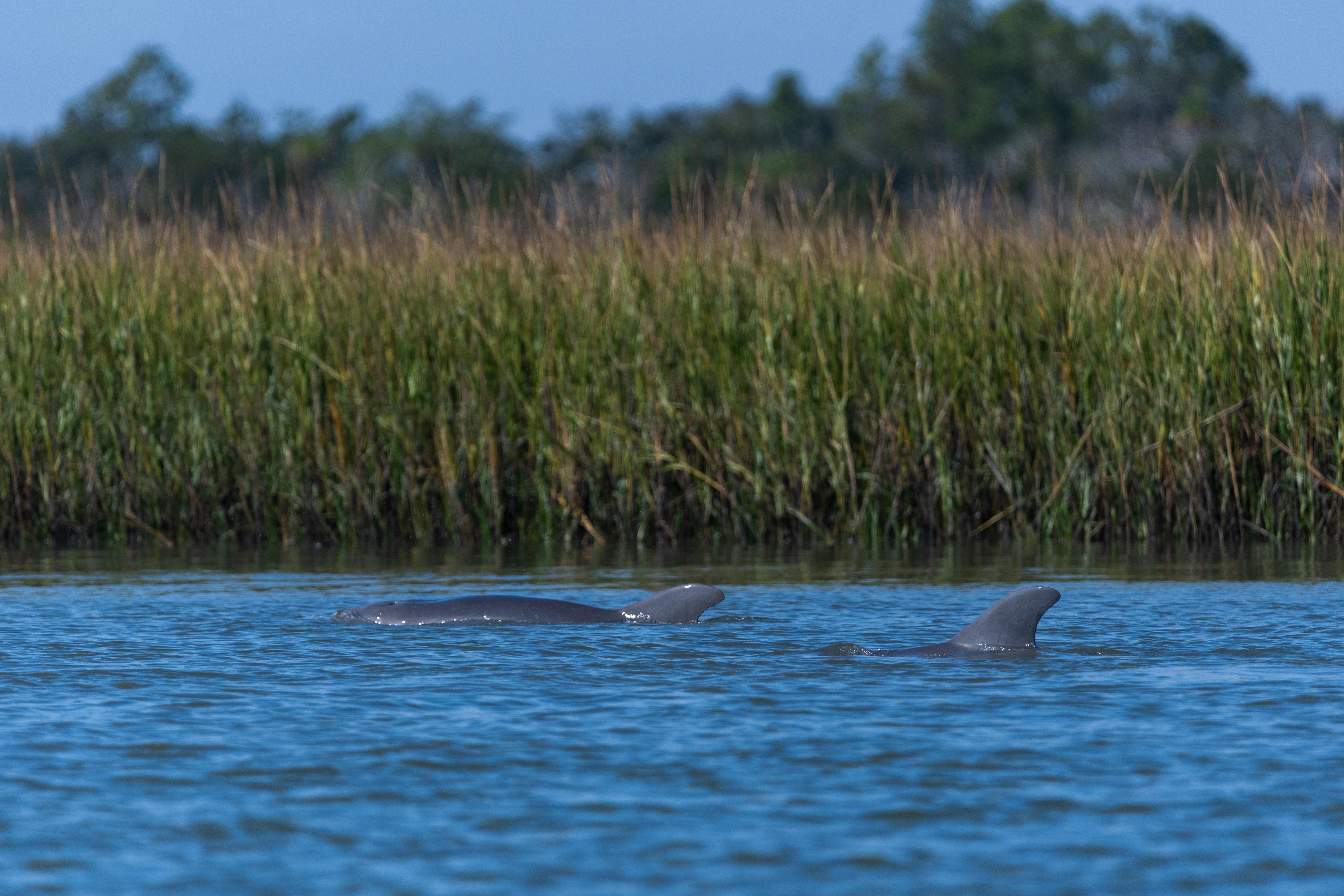 Dolphins are a common sight in the creeks that dissect the salt marsh near Skidaway Island, Georgia.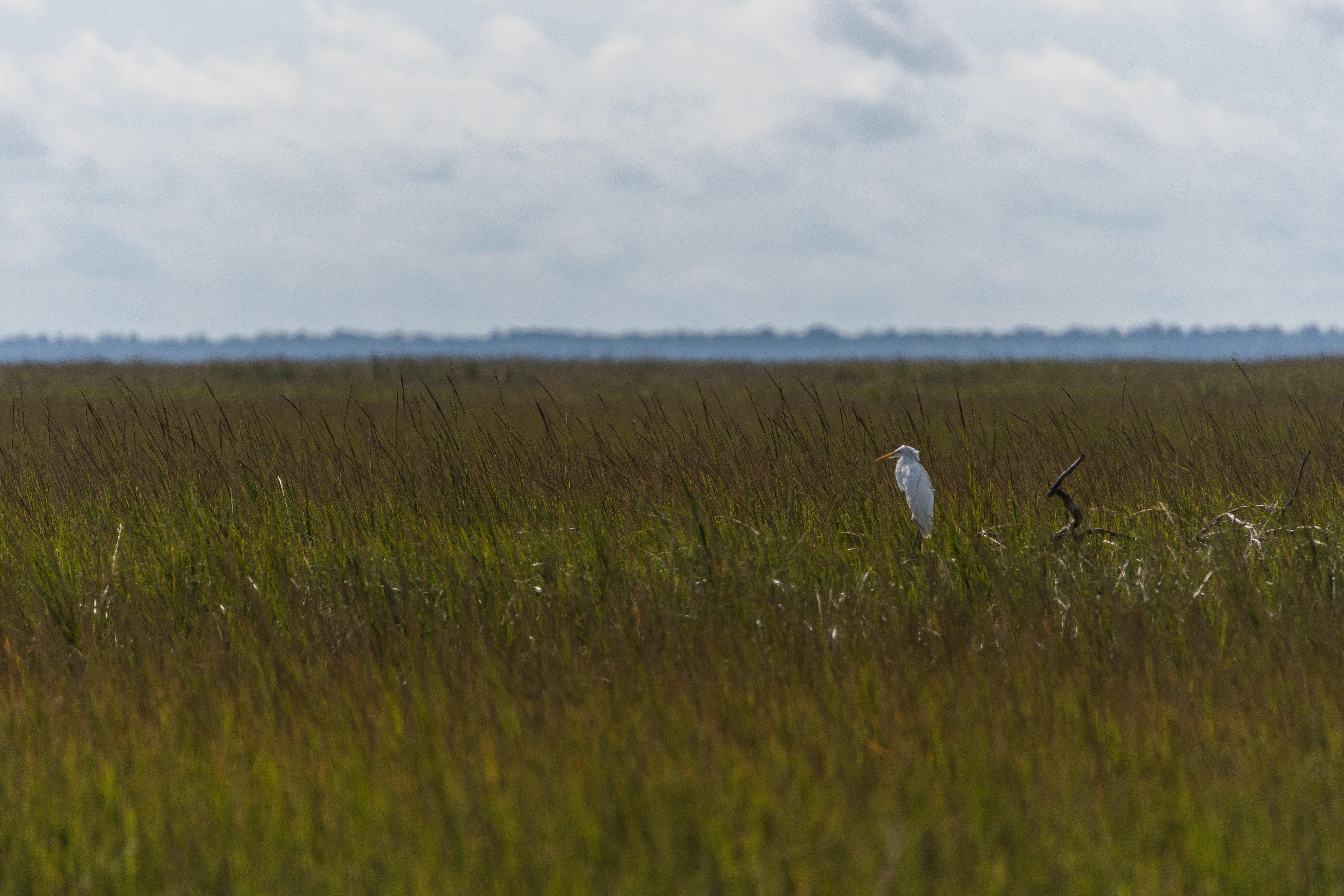 Wading birds frequent the salt marsh at low tide to feed.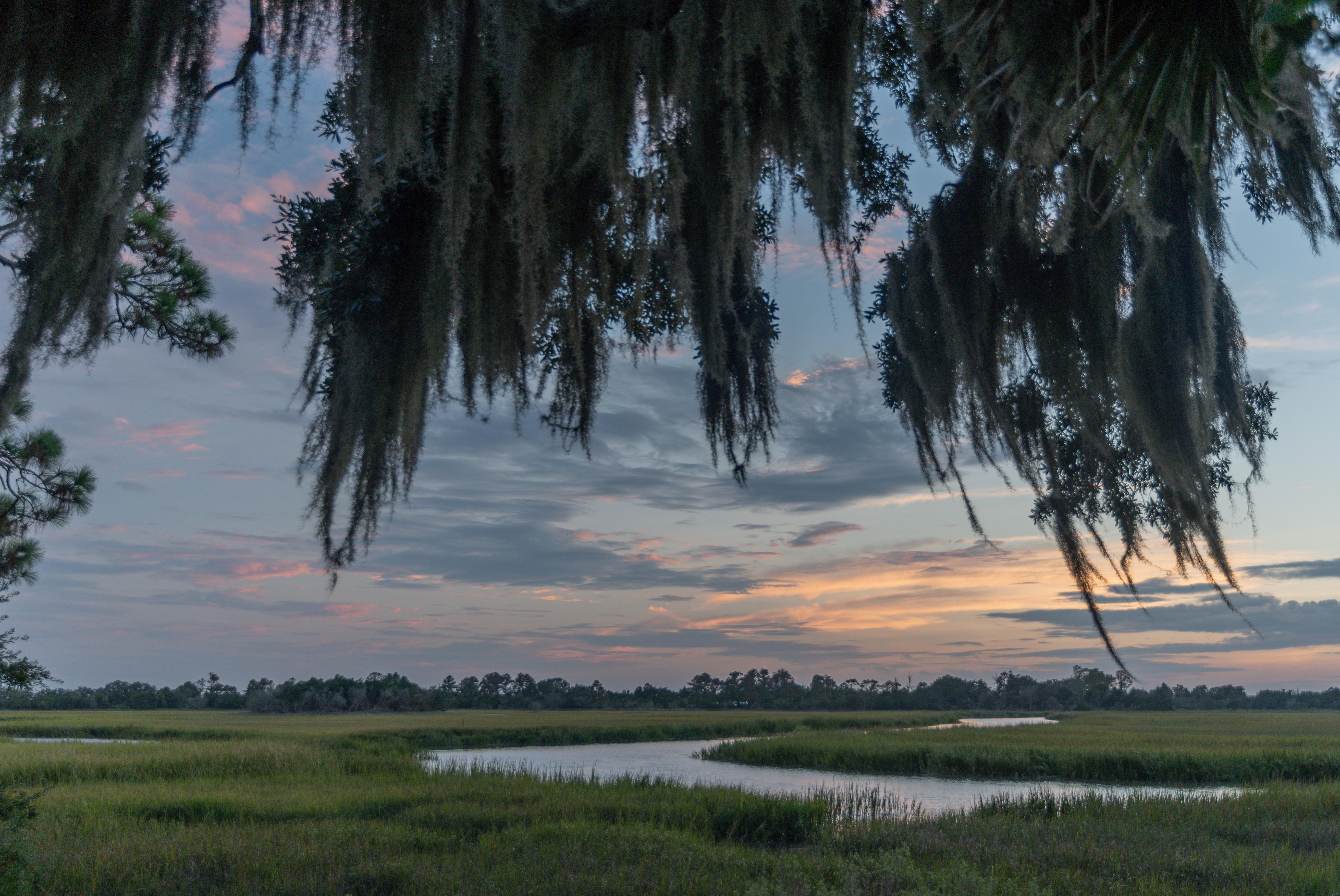 Salt marshes are one of the South's iconic settings. Part liquid, part solid, they are an ever-shifting landscape that can stretch for miles before it meets the sea.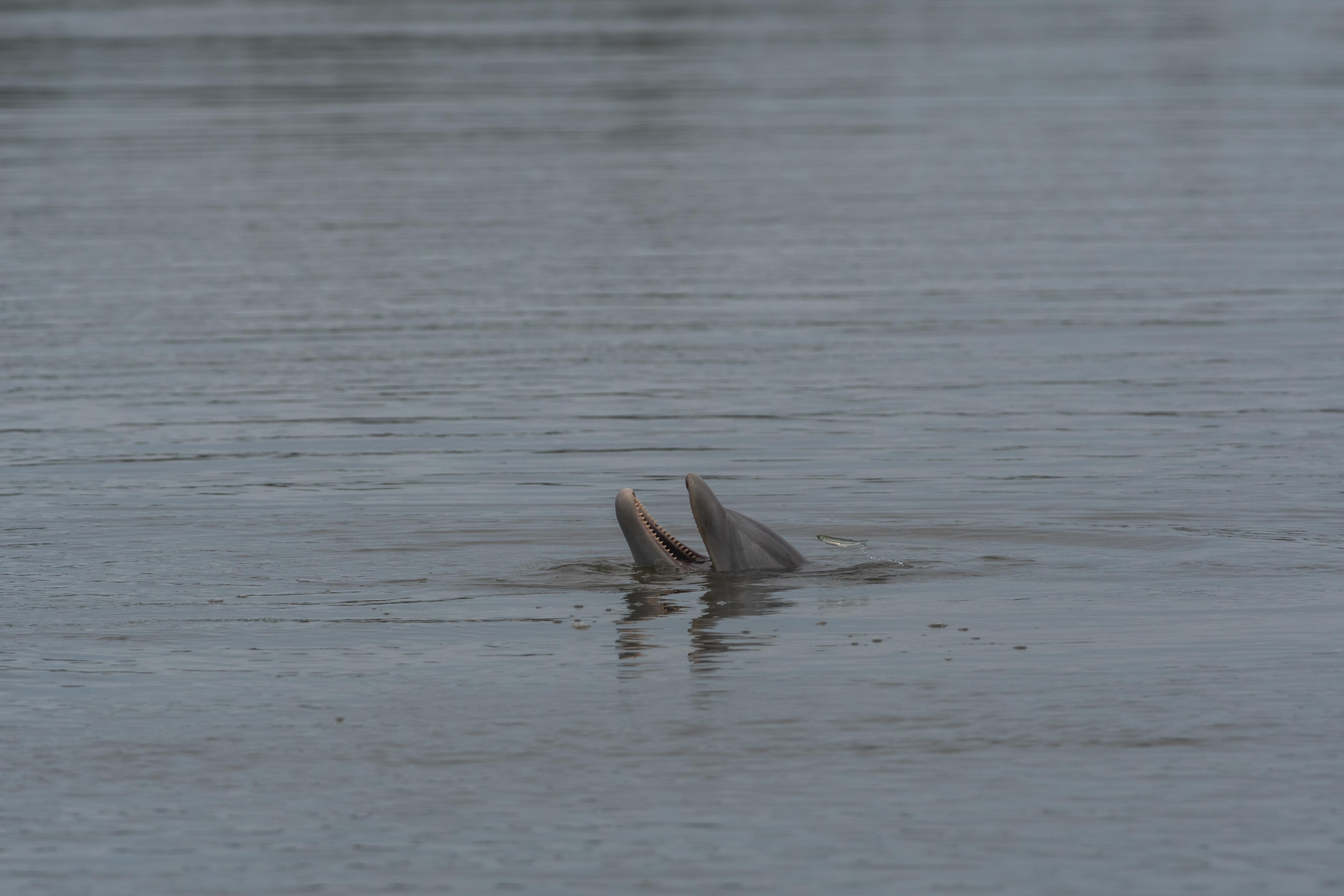 A young dolphin feeds in a shallow tidal creek in the salt marsh near Skidaway Island, Georgia.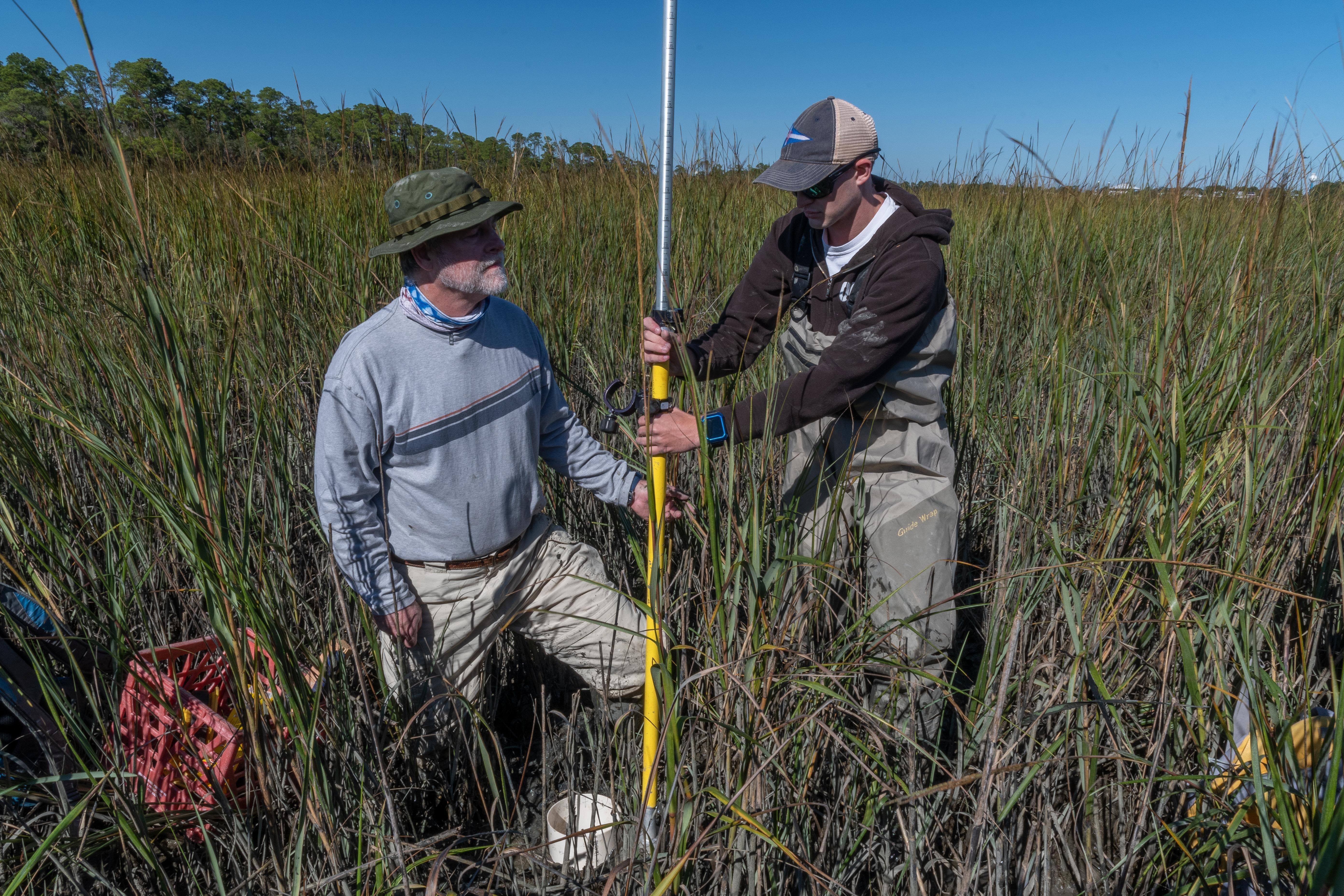 Clark Alexander, Ph.D. collects sediment cores in the salt marsh on the backside of Tybee Island. His research is part of a project aiming to figure out solutions to flooding caused by sea level rise in the future.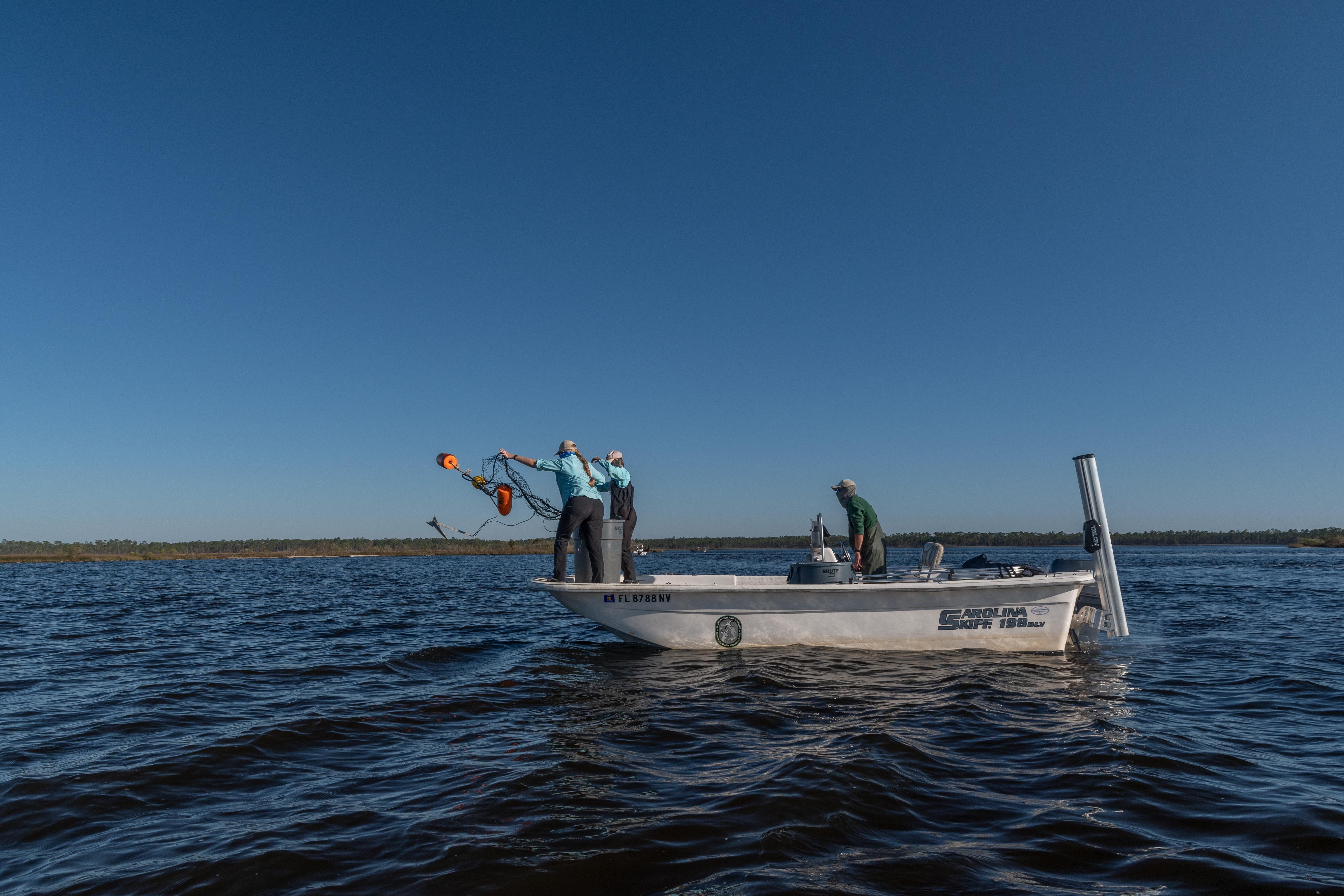 Salt marshes also occur in Florida's panhandle. Scientists with the Florida Fish and Wildlife Conservation Commission's Garcon Point Lab study a variety of fish which spend time in the marsh.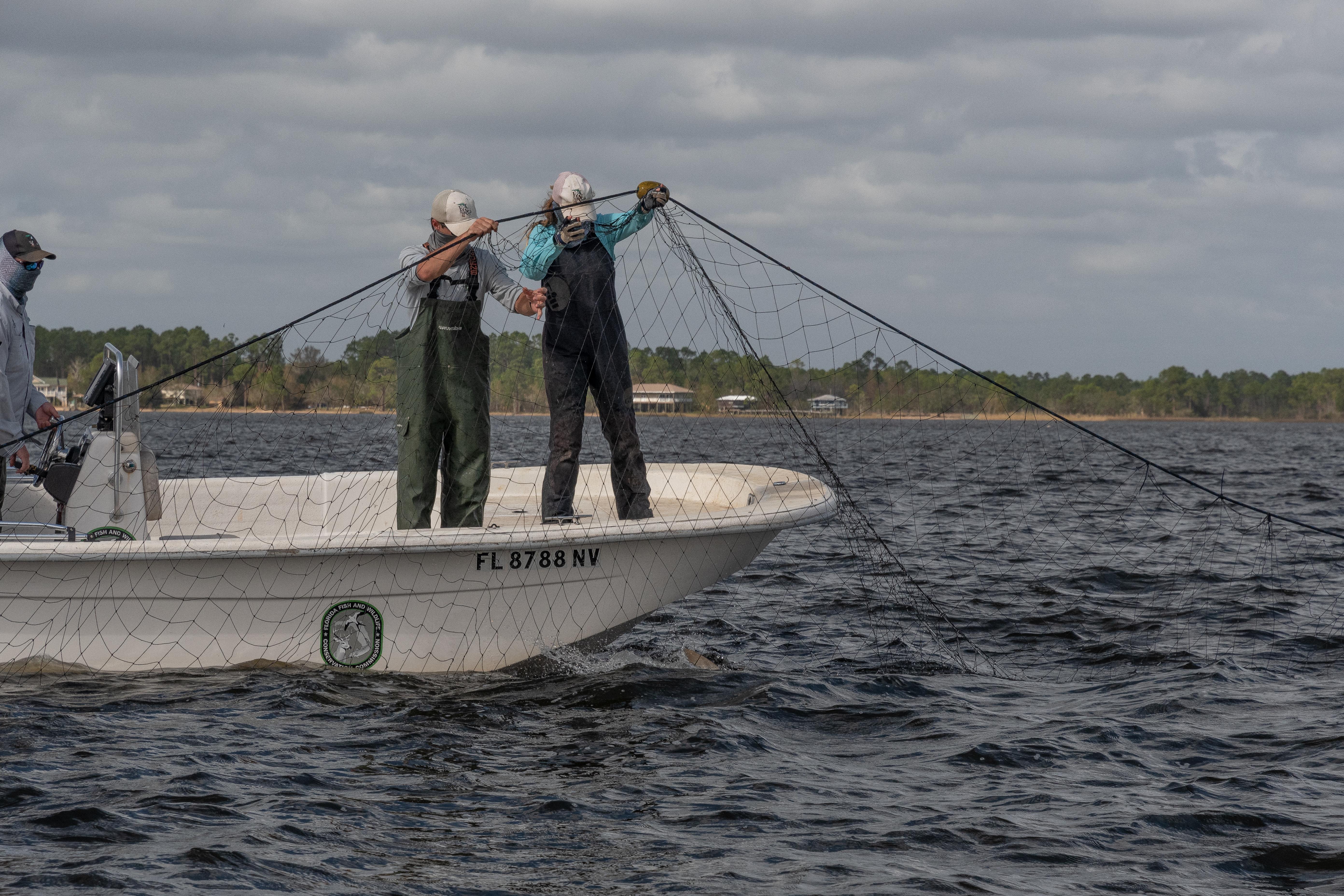 Researchers with FWC's Garcon Point Lab check a large mesh gillnet they set to catch alligator gar in Pensacola Bay.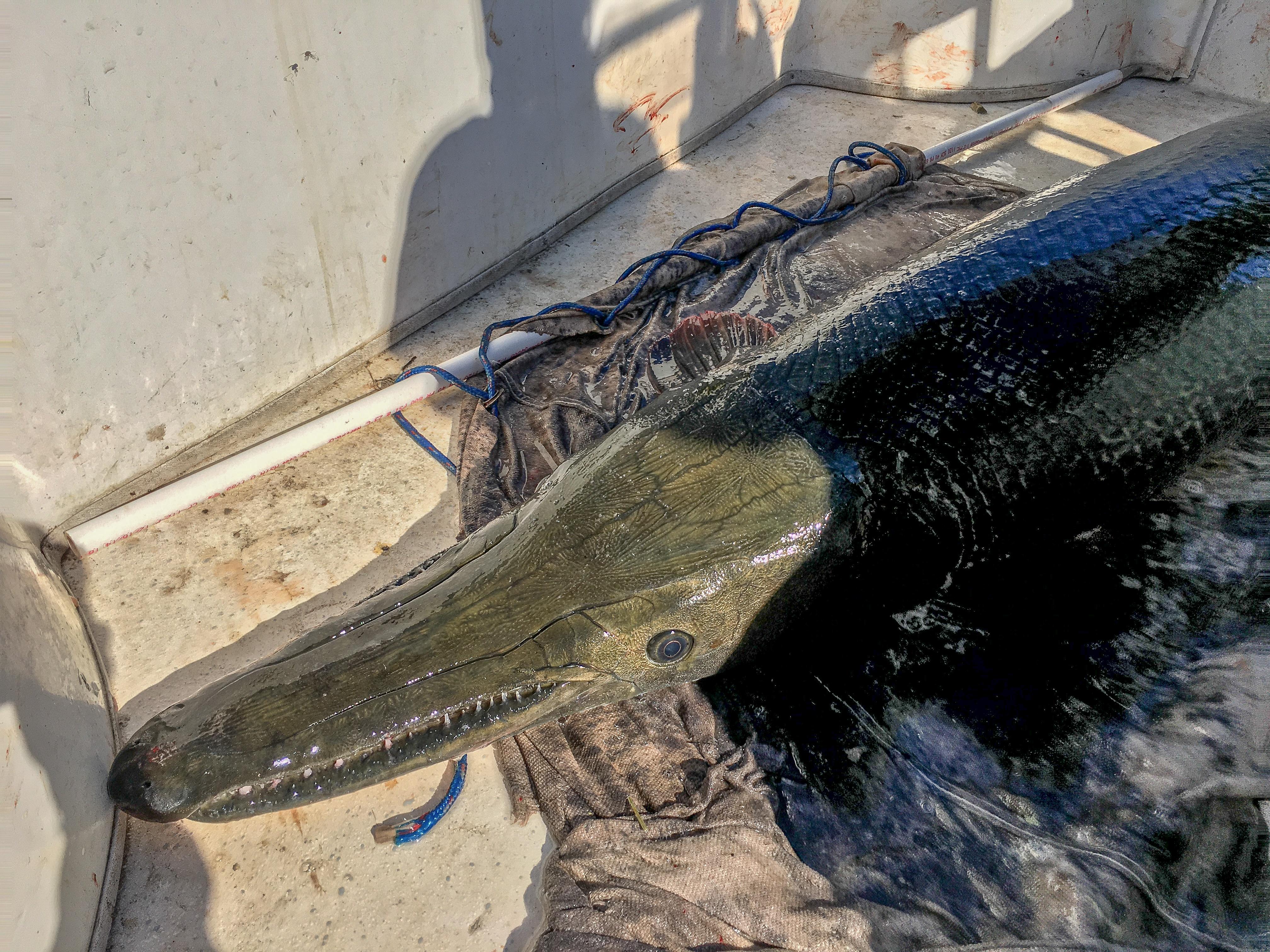 Alligator gar can weigh over 300 pounds and grow up to eight feet in length. These pre-historic looking fish are able to breathe air and are fine out of the water so long as they are kept moist.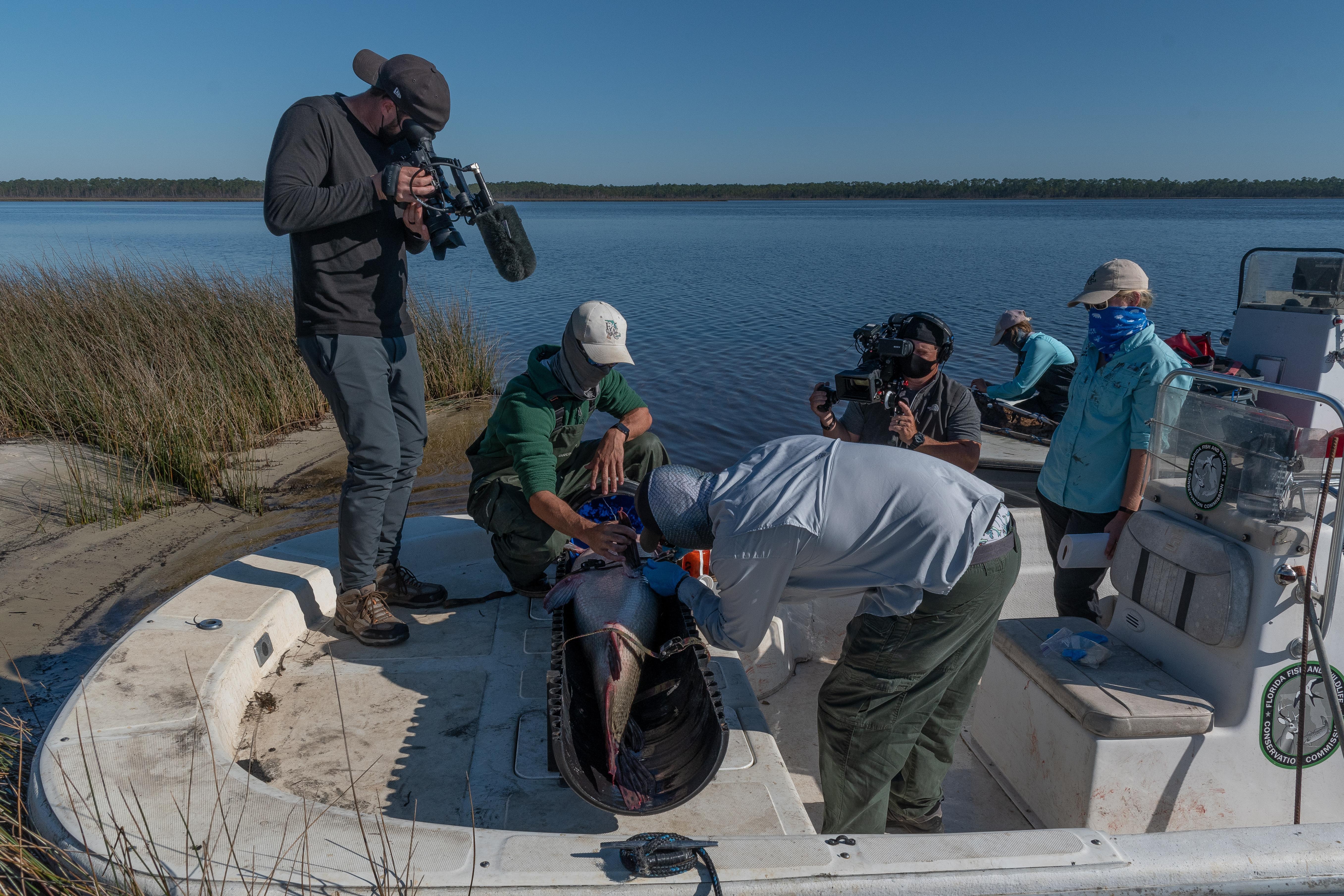 Alligator gar primarily live in freshwater, but they also spend time in brackish and full strength saltwater. To track these apex predators' movements, the scientists implant acoustic tags into the fish.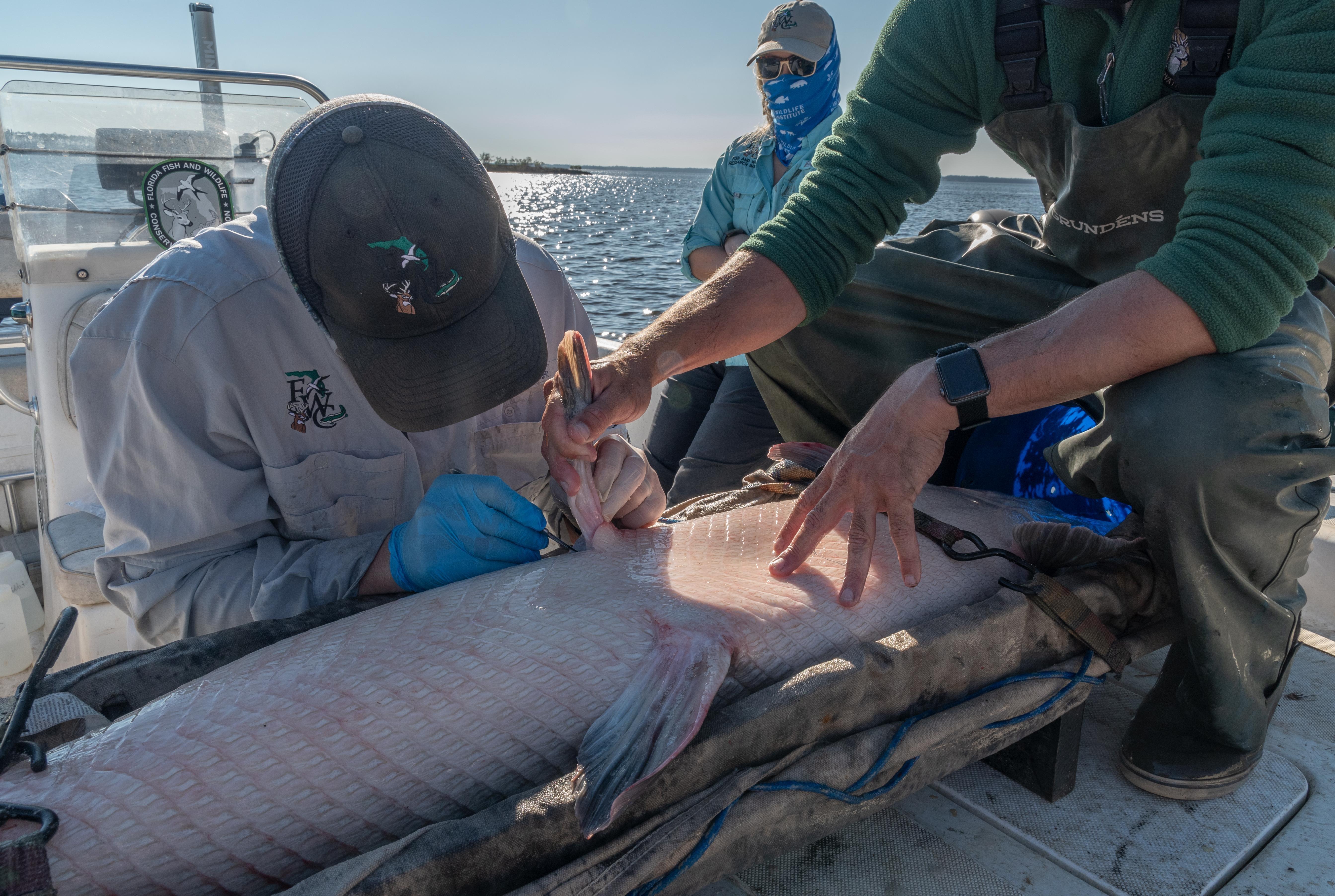 Alligator gar are covered in armor-plated scales that are difficult to penetrate. There's a small area by the pelvic fin that's void of these scales where experts can make an incision to insert an acoustic tag.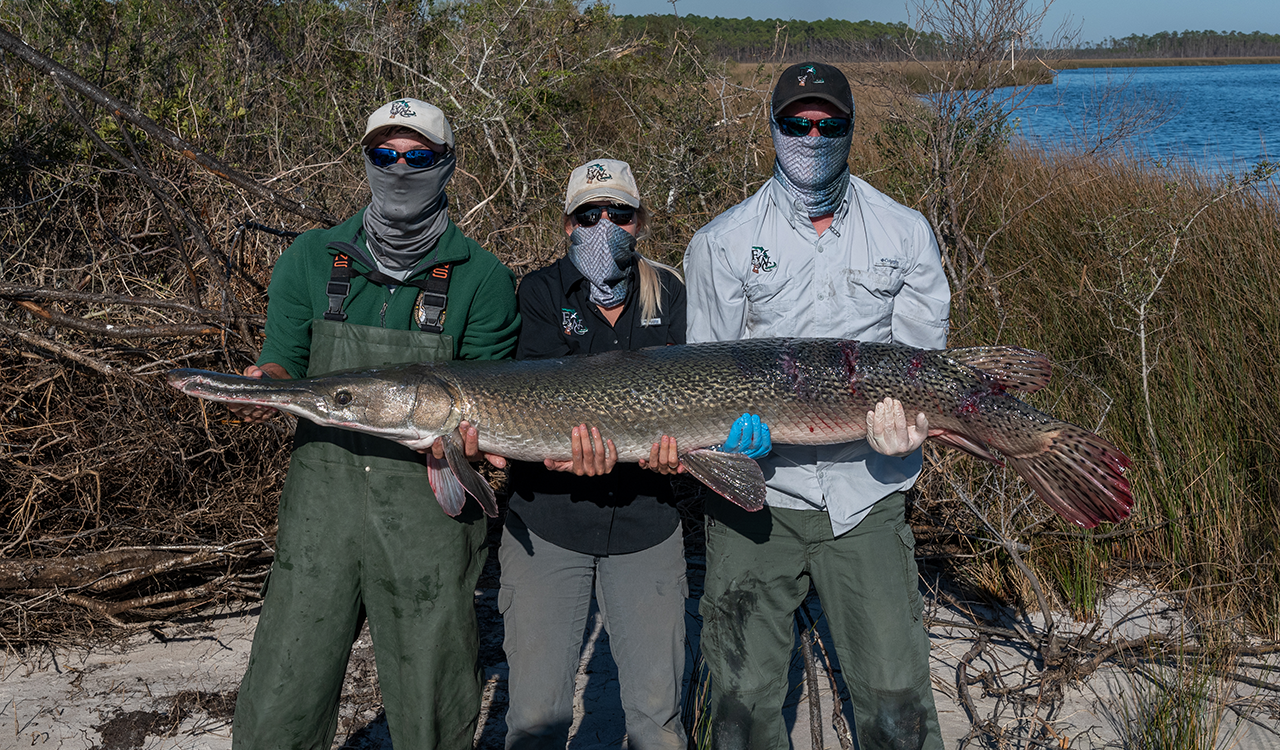 The tagging research has shown that alligator gar spend between six to eight months in Pensacola Bay's brackish water habitats, and the remaining time in the freshwater tributaries.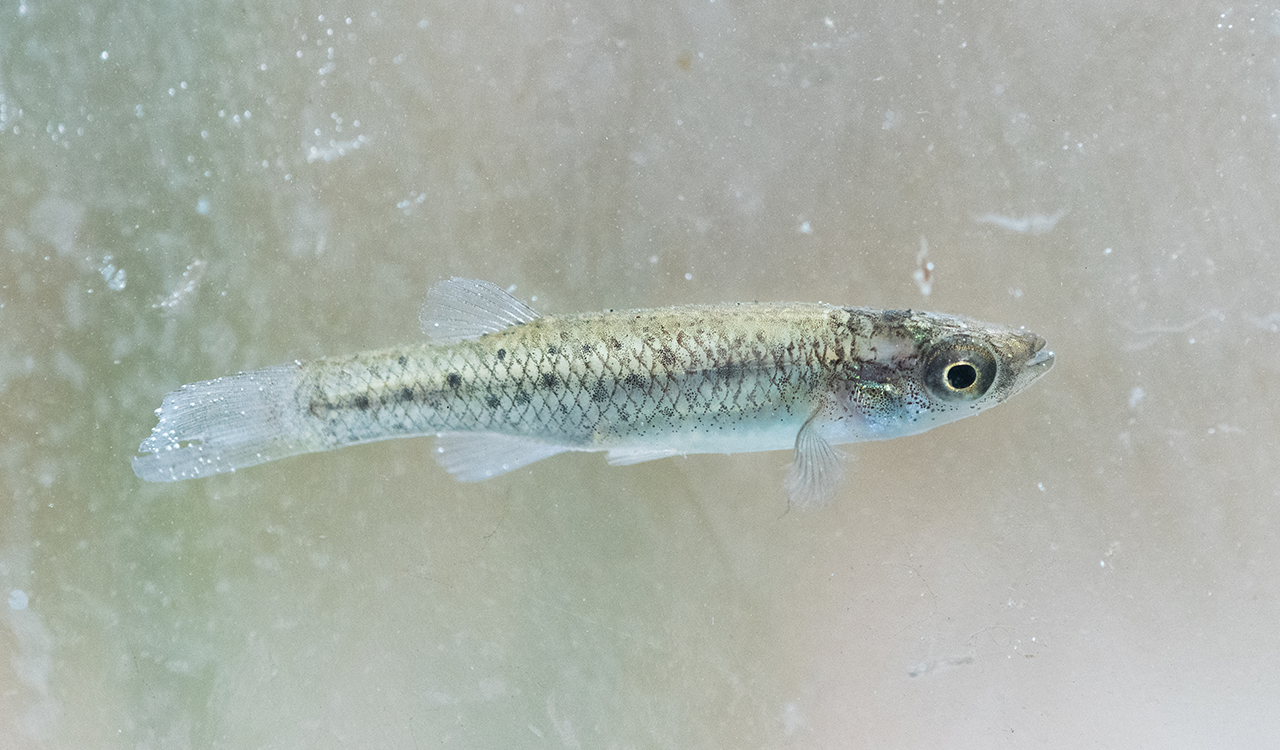 Saltmarsh topminnows inhabit tidal marshes along the Gulf of Mexico, from Texas to Florida. The state of Florida listed the species as threatened in 1977 due to its restricted range, diminishing habitat and population fragmentation.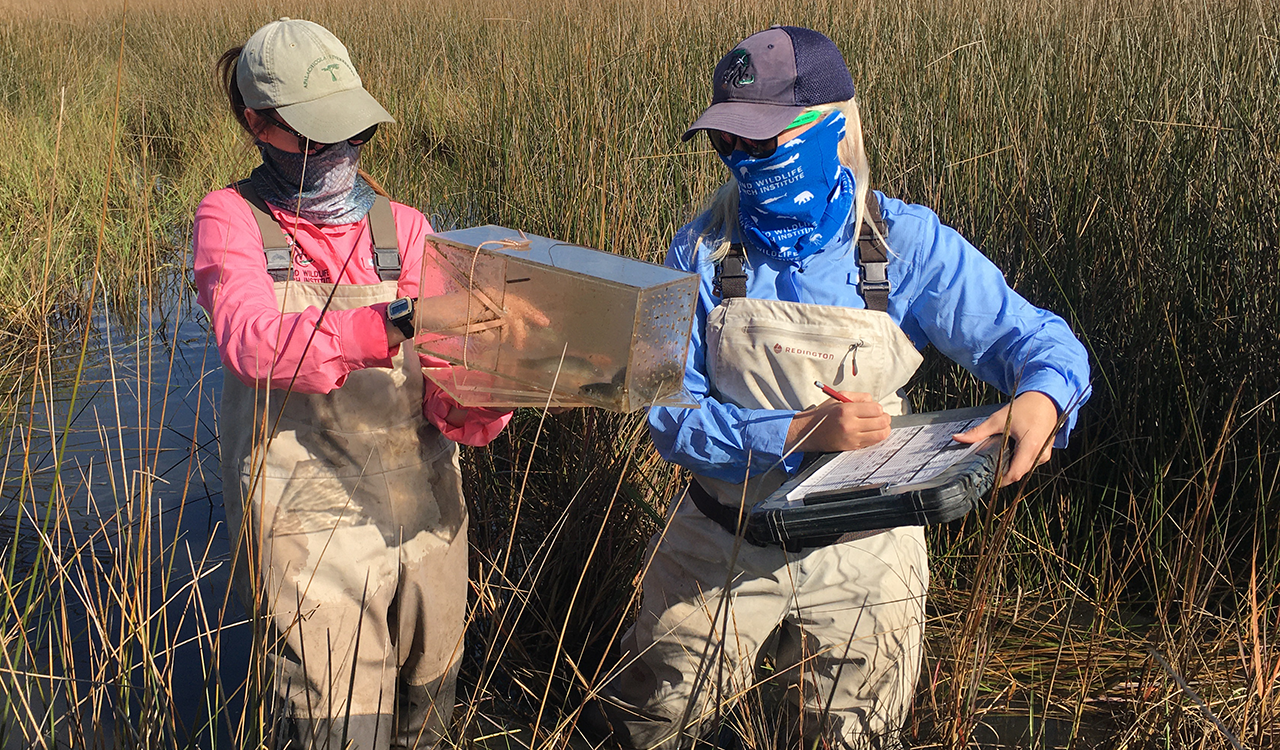 Researchers with FWC's Garcon Point Lab spent five years monitoring saltmarsh topminnows at 32 randomly selected sites in the marsh. They wanted to find out where the fish live, what habitat they prefer, and if their population is stable.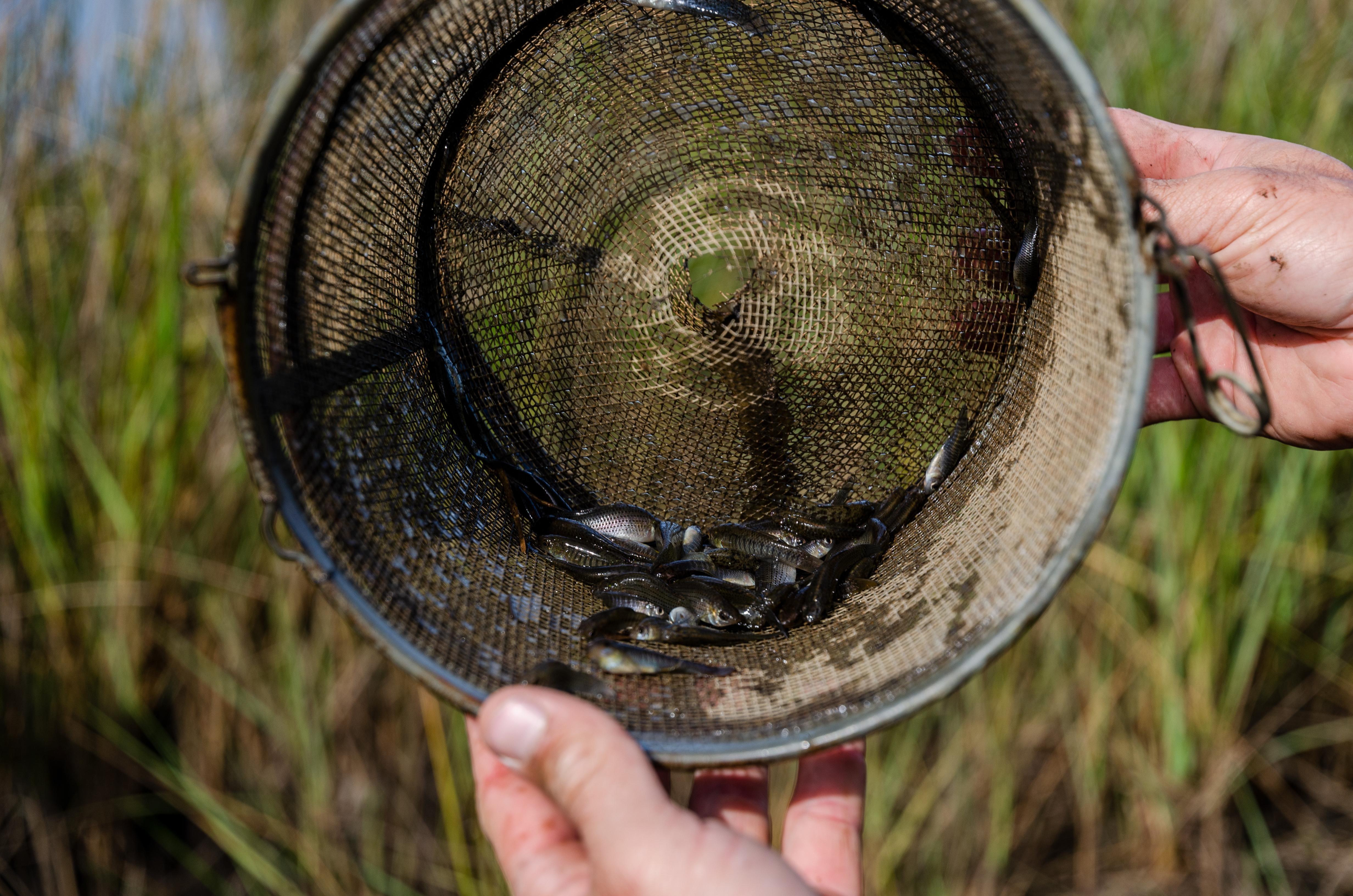 The experts use two different types of traps to catch saltmarsh topminnows. A variety of other species also end up in the traps, which the scientists identify, tally and release.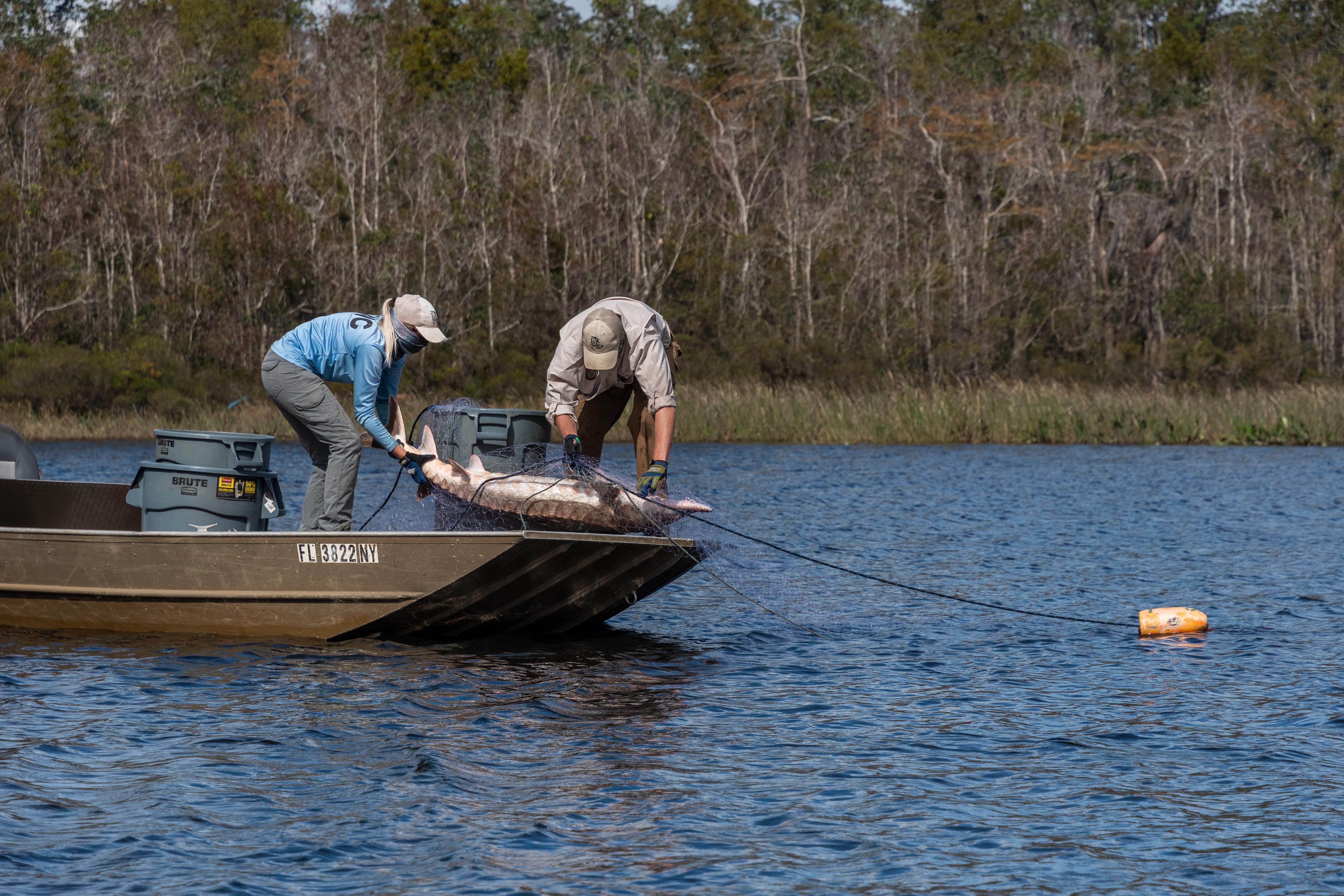 Another fish that spends time in North Florida's salt marshes is the Gulf sturgeon. FWC's Garcon Point Lab researchers are part of a team studying juvenile sturgeon across their range.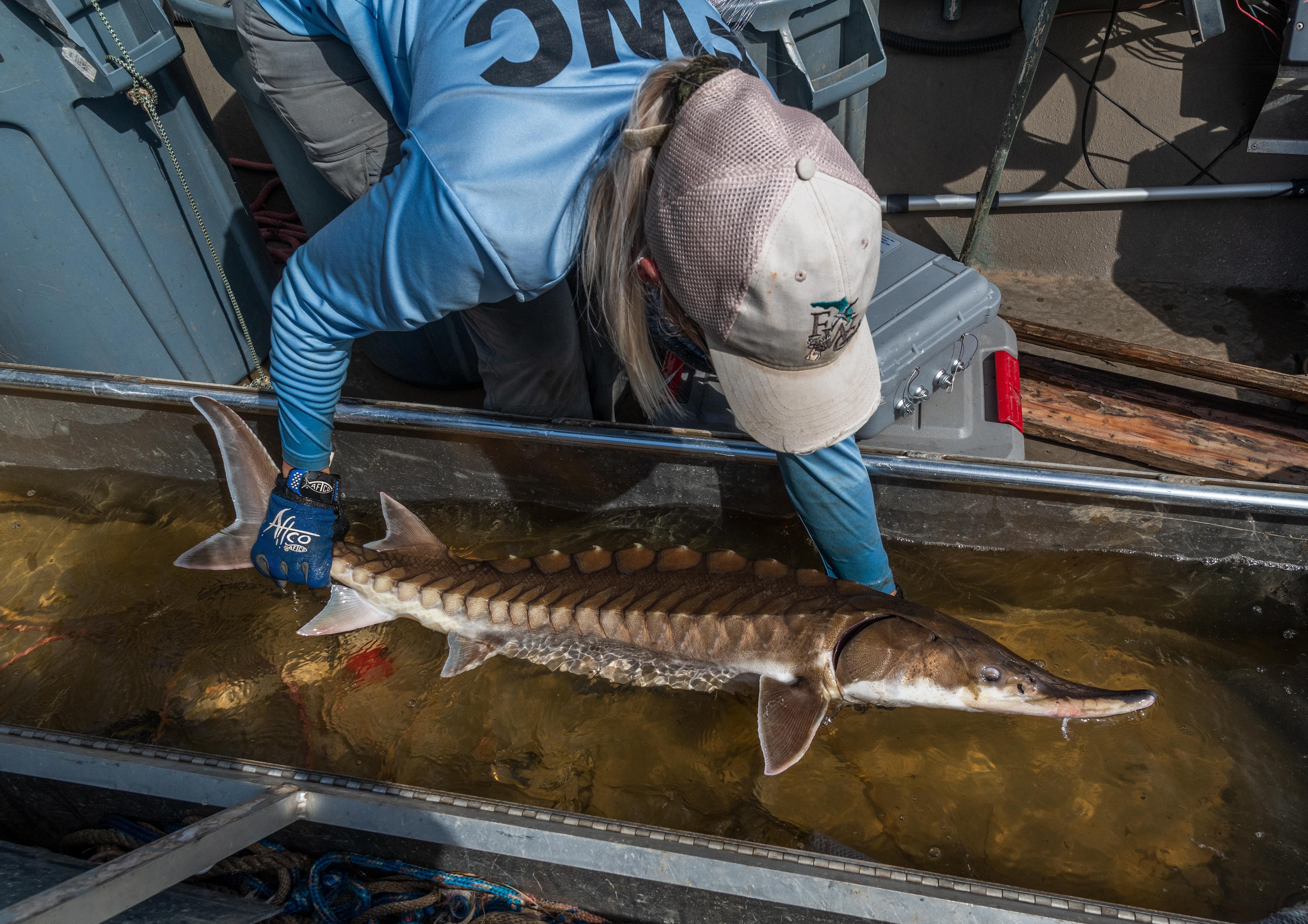 Gulf sturgeon have been listed as threatened on the U.S. Endangered Species List since 1991. Researchers are trying to determine why populations haven't recovered 35 years post listing.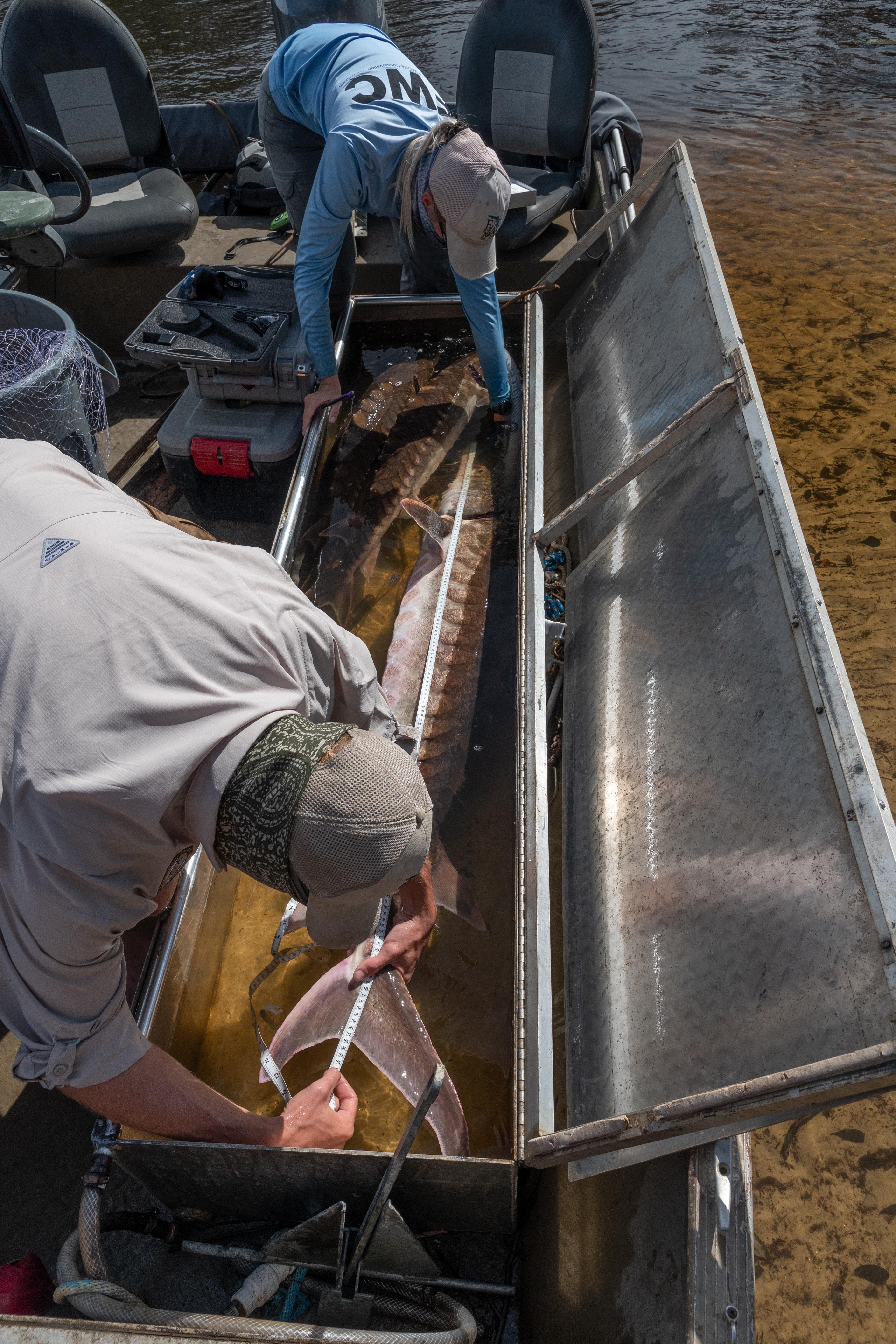 Scientists with FWC's Garcon Point Lab collect a variety of data on the Gulf sturgeon they catch. They also outfit the juveniles with acoustic tags to track their movements.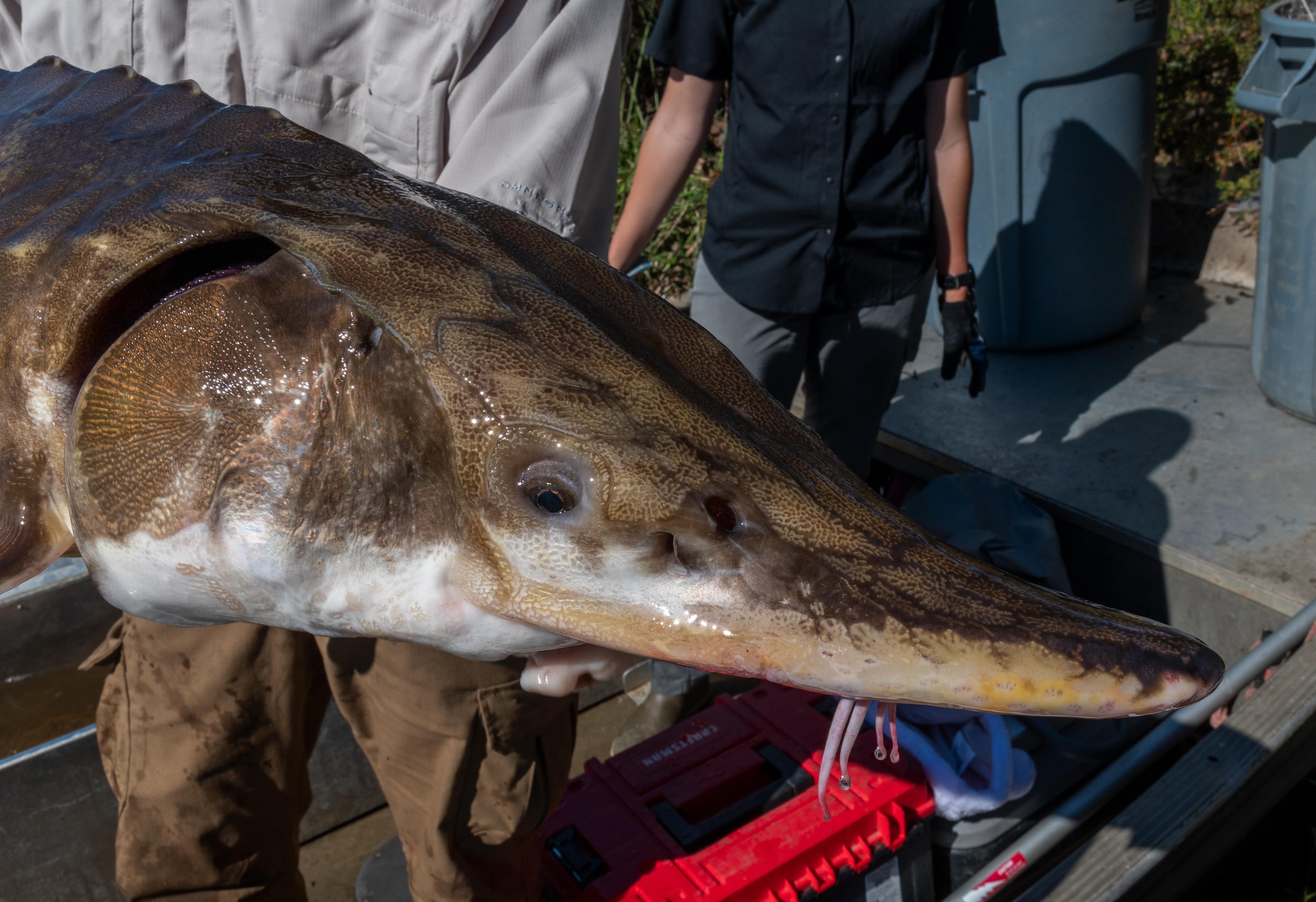 Gulf sturgeon have changed very little over the span of millions of years, making them swimming dinosaurs.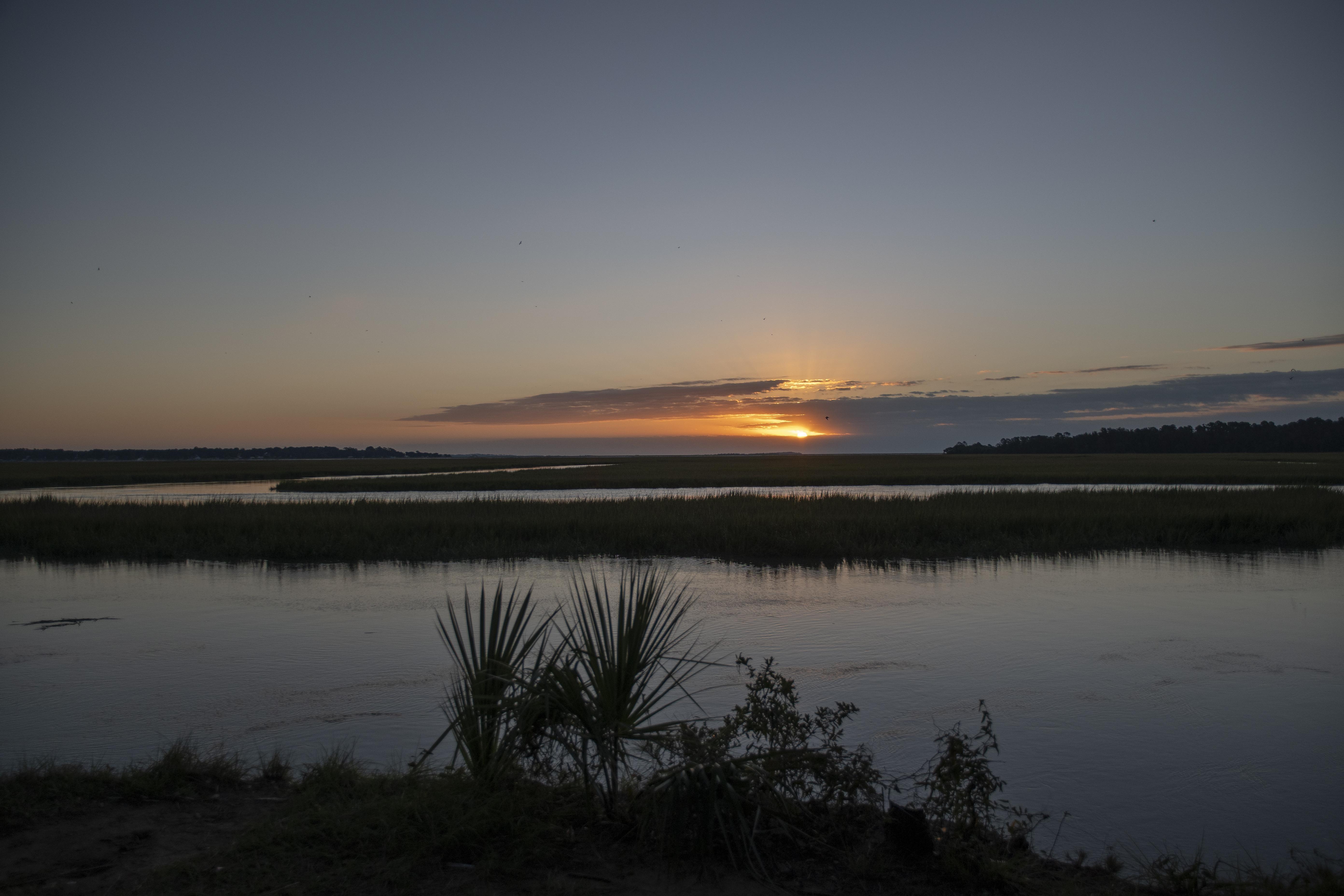 Salt marshes are an important habitat for many species, but they also serve an aesthetic function that has long inspired writers and artists.
Special Thanks:
Adam Kaeser
Alan Robertson
Amanda Nalley
Anthony & Sharon Edge
Christopher Shaun Childs
Don Godish
Doris Hoffman
Emily Kenworthy
Gracie Townsend
Kelly Richmond
Lisa Doser
Mark Adams
Mark Barrett
Michael Sullivan
Michelle Kerr
Rachel Walman
SALTEx Experiment – How might sea level rise affect Georgia's freshwater marshes in the future?
Exploring the Salt Marsh – Horseshoe Crabs
Exploring the Salt Marsh –Blue and Stone Crabs
Exploring the Salt Marsh – Fiddler Crabs
Funding for this episode of Changing Seas was provided by: